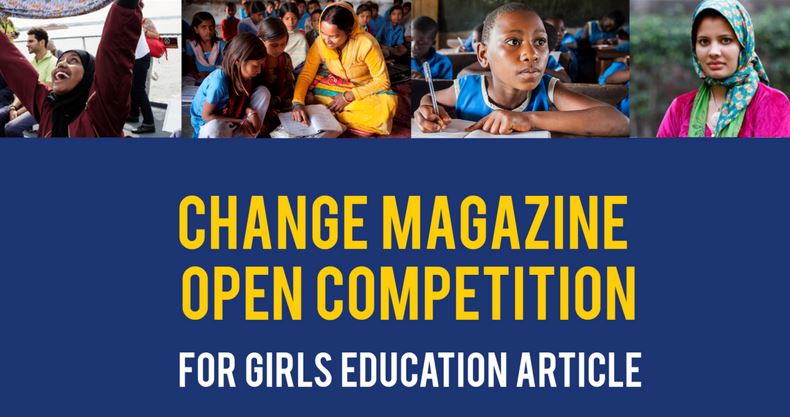 Change Magazine Essay Competition on Girls Education 2017
Deadline: September 5, 2017
Change Magazine is pleased to announce the opening of the essay competition on girls education. The aim of the competition is to collect good cases and ideas that serve as solution to the challenges of girl education. The theme for the essay competition is How to provide high quality elementary education for girls in less developed regions.
Globally, 130 million girls cannot finish their elementary education. Their educational opportunities are affected by conflict, early marriage, child labor and many other factors. They are more likely to drop out of school than boys. It is the challenge of our era and one of the most important agenda is to come up with effective and sustainable models to provide education opportunities for these 130 million girls.
Prize
A prize of $200 USD will be awarded to the best article; and
Admission into Change Magazine September issue for top 3 articles.
Eligibility
The competition is open to everybody around the world.
Selection Criteria
Comprehensiveness: To what extent does the article clearly describes development challenge, the solution to the challenge, the business and operational model, the resources mobilized, the success and failure, etc?
Scalability: To what extent does the article illustrate how to turn global innovations to local impact in a specific setting in developing countries?
Sustainability: To what extent does the article discuss the operational and financial sustainability of a particular initiative?
Richness in resources and knowledge: To what extent is the article practical and resourceful for young people in developing countries?
Quality of writing: To what extent is the article well written and edited with little errors, and interesting enough to read?
Visualization: To what extent does the article have good visualization tools, such as attractive photos, videos, etc?
Application
For more information, Change Magazine Essay Competition on Girls Education.