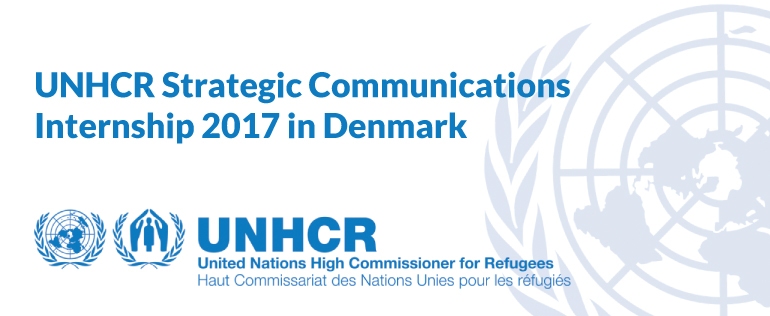 UNHCR Strategic Communications Internship 2017 in Copenhagen, Denmark
Deadline: August 27, 2017
The United Nations Refugee Agency (UNHCR) is seeking a dynamic and proactive team player, with a strong interest in communication and refugee issues, to complete a six-month internship within UNHCR's Strategic Communications team. This exciting internship is a unique opportunity to gain experience in communication and media monitoring as well as experience working within the UN system.
UNHCR is a global organization dedicated to saving lives, protecting rights and building a better future for refugees, forcibly displaced communities and stateless people. Every year, millions of men, women and children are forced to flee their homes to escape conflict and persecution. UNHCR teams are in the field in over 125 countries, using their expertise to protect and care for nearly 55 million people.
Responsibilities
The Strategic Communications Intern will be expected to:
Assist in the completion of weekly and monthly communication reports. These will span across traditional media, social media and digital engagement;
Use UNHCR's various media monitoring software tools to provide data insights to colleagues across the world. Training will be provided;
Assist in the development of new and ad-hoc reports;
Research, compile and file relevant media coverage of UNHCR;
Assist with updating and administering various databases;
Provide any other required support, including admin support to the team's four permanent staff.
Eligibility
The ideal candidate will:
Possess a Bachelor's degree in a relevant field, for example Communication and Media Studies, Refugee and Forced Displacement Studies, Migration Studies, International Studies and Social Sciences;
Have strong research and organizational skills. This includes a good understanding of qualitative and quantitative research methods;
Be a strong communicator and fluent in English, with advanced writing and editing skills. Additional languages are desirable, but not essential;
Have advanced experience using the Microsoft Office suite (Outlook, Word, Excel, Publisher and Powerpoint). Advanced experience using Microsoft Excel is particularly important as this is the primary tool we use to process data;
Have experience with web analytics tools such as Google Analytics;
Have a strong understanding of social media;
Have design and document formatting skills. Experience using Illustrator, Photoshop and InDesign is desirable, but not essential;
Show a genuine desire to learn and adapt;
Have good inter-personal skills and be a keen team-player.
Application
Interested applicants should submit their letter of motivation, Personal History Form (P11), and CV, including testimonials/degrees/certificates to [email protected] indicating "Strategic Communications Internship" in the subject of the email.
For more information, visit UNHCR Strategic Communications Internship.