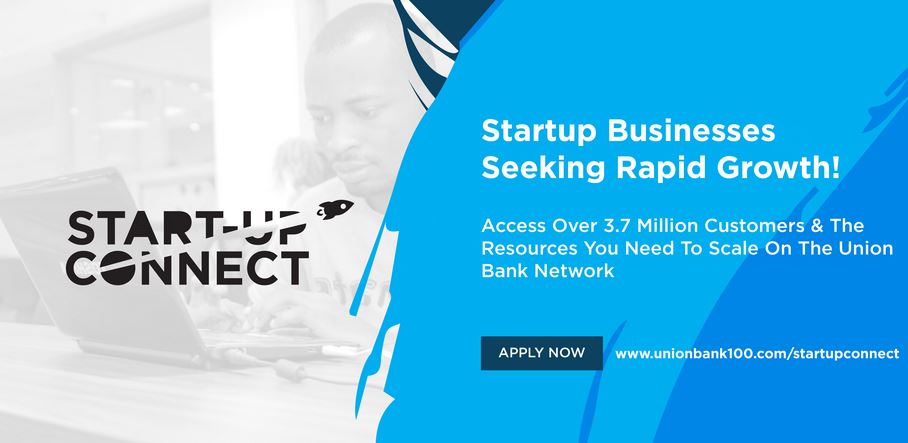 Union Bank's Startup Connect Program for Techpreneurs 2017
Deadline: September 1, 2017
Are you looking to rapidly scale your startup? Is your team working on an innovative, technology-driven idea to address critical social and business challenges in Nigeria? Apply for the Union Bank's Startup Connect 2017. Startup Connect is an opportunity for Nigerian companies creating the next generation technology solutions for the African market to partner with Union Bank to aid their rapid growth.
The programme is a first of its kind business acceleration program dedicated to matching technology-enabled startups from all over Nigeria with the Union Bank brand for mutually beneficial collaboration. Through Startup Connect, creative talents and smart businesses can access the bank's 350 sales/service centres & over 3.7 million customers across Nigeria to scale their solutions.
The Union Bank Startup Connect is an initiative sponsored by Union Bank. It will be delivered by Co-Creation Hub Nigeria.
Program Phases
The programme will be delivered through a three-staged approach which includes:
Select: Shortlisted startups will be invited to a pitch event
Develop/Accelerate: Over a 13 week period, selected startups will work with CcHUB and the bank's staff, apply design thinking to create a usable proof-of-concept prototype that serves a chosen segment of the bank's customers or clients.
Deploy/Invest: At the end of the 13 week period, the results will be presented to the appropriate business units of the bank for deployment. Both parties will decide to either share revenue or explore equity investment.
Eligibility
Open to technology enabled startups in Nigeria that have gained significant traction and are interested in partnership with Union Bank to scale. Traction can be in number of customers/users, turnover, geographical spread etc.
Application
For more information, visit Union Bank's Startup Connect.