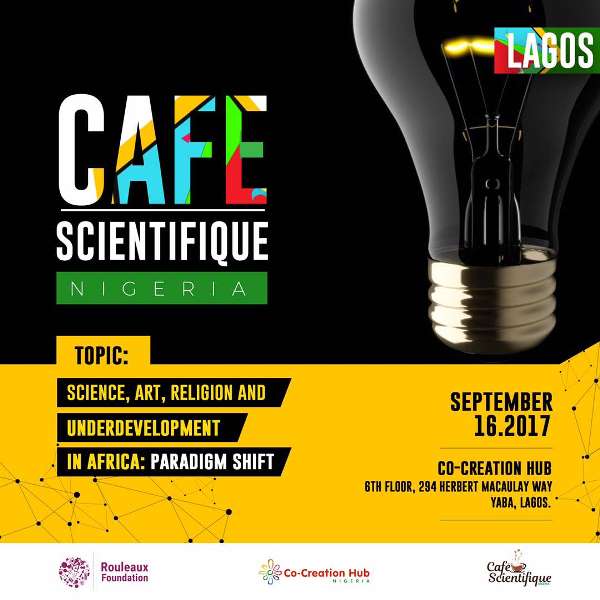 Register to attend Rouleaux Foundation Café Scientifique – Lagos, Nigeria
Deadline: September 7, 2017
Registration is now open to attend Café Scientifique in Lagos, Nigeria, with the theme, "Science, Art, Religion, and Underdevelopment in Africa: Paradigm Shift." The Café Scientifique is aimed at improving the scientific literacy of the Nigerian Society through public engagement with topics of relevance to Nigeria.
Café Scientifique Nigeria is a social development initiative, coordinated by the Rouleaux Foundation, a private, scientific, not for profit organization in Nigeria, with the aim of promoting science for sustainable development in Africa. The Cafe is primarily a multidisciplinary Science-Technology- Society, STS initiative that encourages the public to explore and engage with experts on both old and new ideas in science and technology blended with the art and socio-cultural peculiarities vis-à-vis concerns of their society. The idea is simply to talk about science in a non-academic setting, emphasizing engagements around behaviors, beliefs, and way of thinking of a people impacting the extension the frontiers of development.
Cost
Registration and admittance into the event is free.
Any and all other costs associated with your attendance (including any travel or accommodation expenses) shall be borne solely by you.
Who Can Attend
Anyone can participate in this event.
Members of the public who are interested in sciences but never have the opportunity to discuss their views can attend.
Registration
To attend the event, first register online before September 7, 2017
The event is scheduled to hold on September 16, 2017
Time: 10:00AM – 01:00PM Nigerian Time GMT+1
Venue: Co-creation Hub 294 Herbert Macaulay Road Yaba, Lagos Nigeria
For more information, visit Rouleaux Foundation.