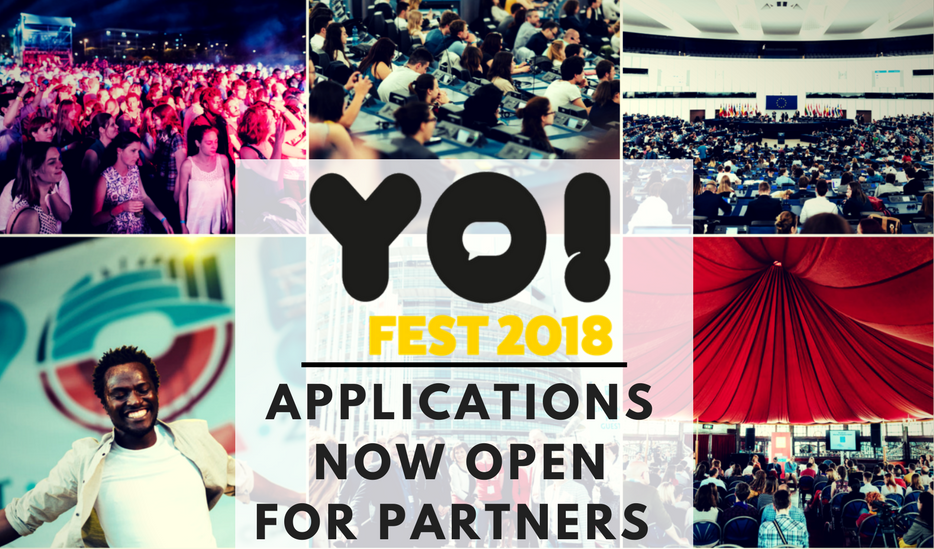 Call for Partners: YO!fest 2018 at European Youth Event in Strasbourg
Deadline: September 13, 2017
Want to help create exciting & innovative workshops for #YOFest 2018?? The European Youth Forum (EYF) invites you to propose an activity at their YO!fest 2018. The YO!fest is the EYF's annual political youth festival. In 2018 the YO!fest will take place at the European Youth Event in Strasbourg on 1-2 June, welcoming over 8000 young people. 'YO!' stands for Youth Opinion. And your role would be to ensure that youth voices are heard.
Applications are invited for activities such as high-level political debates, smaller workshops, educational activities or cultural activities. The aim is to create a unique, fun and meaningful experience of participation and put youth issues at the forefront of the political debate, while highlighting the contribution that youth organisations make to society.
Activities will be hosted just outside the European Parliament, in the YO!Village – a vibrant, interactive and sustainable space for participants to meet, share and debate with each other as well as decision-makers. Some bigger activities can take place in the European Parliament itself. Activities will have to be scheduled and participants will have to register online in advance. Capacity can be between 10 people and 300 people.
Benefits
The EYE2018 will be a unique advocacy and networking platform to:
Bring a group of between 10 and 20 young people from your organisation to Strasbourg on 1-2 June 2018 to participation in the YO!fest – a subsidy will be provided for accommodation/travel of all participants that are EU citizens (see more details below).
Reach out to thousands of politically engaged young people from across Europe and engage them in your organisation.
Engage with decision-makers and contribute to setting the EU agenda.
Showcase youth-related activities and meet other European or international organisations
All participants in groups that are EU citizens and between 16 and 30 years of age by 01/6/2018 are eligible for a refund of travel expenses by the European Parliament. Though these are not yet confirmed, they are likely to be:
Travel expense of up to 45¢ per kilometer.
Accommodation expenses of €60 per night per participant.
Meal expenses pf €40 per participant.
Eligibility
Up to 50 participants will be selected. The requirements for being a partner are as follows:
Represent a member organisation of the Youth Forum, or a member of a member organisation of the Youth Forum.
Submit a detailed activity plan outlining the type of activity you would like to create (debate/workshop/educational or cultural activity), showing a credible activity plan, a partnership approach and a tangible outcome or legacy of the activity.
Be available for the Preparatory meetings which will be held in Strasbourg on 6-8 October 2017 and early 2018.
Preferable to have demonstrable experience of delivering activities on a similar theme, or at a similar scale.
Requirements
Please note that successful partners will be asked to do the following:
Name a project coordinator and a back-up manager who will have full oversight of the activity development.
Submit a request covering each of the areas that Youth Forum will manage. This will include details of logistical needs and required communication support. For each activity, we will put in place a service level agreement specifying how responsibilities will be split between the Youth Forum and the partner.
Engage in the appropriate activity monitoring. Depending on the size of the activity this may include bi-weekly phone calls. This is a flexible system and reporting will be adapted where appropriate.
Develop a contingency plan in case anything interferes with the planning
Engage in a common commitment between the Youth Forum and the partners to flexibility, transparency and communication throughout.
Application
To apply, register here and complete the application.
For more information, visit YO!fest 2018 Call for Partners.