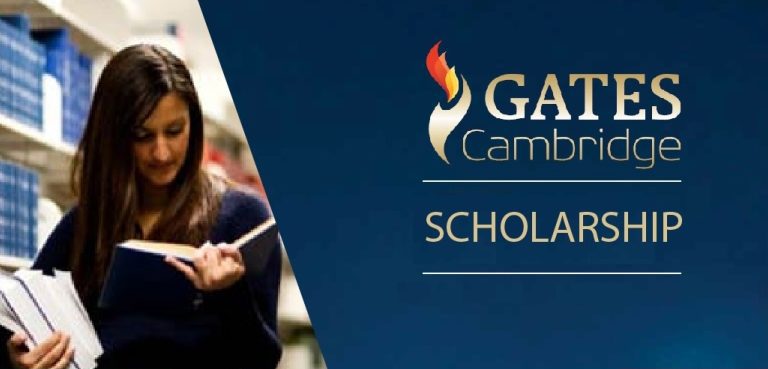 Apply: Gates Cambridge Scholarship Programme 2018 to Study in the UK
Deadline: October 11, 2017 (for US Citizens) / January 4, 2018 (Other Applicants)
Applications are open for the 2018 Gates Cambridge Scholarship Programme. The scholarships are awarded to outstanding applicants from countries outside the UK to pursue a full-time postgraduate degree in any subject available at the University of Cambridge. The aim of the Gates Cambridge programme is to build a global network of future leaders committed to improving the lives of others.
During your time as a Gates Cambridge Scholar at Cambridge you will have access to myriad opportunities and networks – right from a three-day orientation programme before your course starts (where friendships for life are made) through to the Graduation Dinner (to celebrate your success). There are an enormous number of academic, cultural, social, and professional development opportunities in between.
Upon completion of your degree there are is a similarly wide range of opportunities to remain engaged with Gates Cambridge. Major alumni events, local activities, an on-line network and more ensure Alumni feel connected to the programme and each to other. The Gates Cambridge Scholarship programme was established in October 2000 by a donation of USD $210m from the Bill and Melinda Gates Foundation to the University of Cambridge; this is the largest ever single donation to a UK university.
Scholarship
The Gates Cambridge Scholarship covers these costs:

The University Composition Fee at the appropriate rate;
A maintenance allowance for a single student (£14,900 for 12 months at the 2017-18 rate; pro rata for courses shorter than 12 months);
One economy single airfare at both the beginning and end of the course;
Inbound visa costs & the cost of the Immigration Health Surcharge.

It also provides additional, discretionary funding:

Academic development funding – from £500 to £2,000, dependent on the length of your course, to attend conferences and courses;
Family allowance – up to £10,120 for a first child and up to £4,320 for a second child (2016-17 rate). No funding is provided for a partner;
Fieldwork – you may apply to keep up to your normal maintenance allowance while on fieldwork as part of your PhD (the Trust does not fund other fieldwork costs as these should be funded by the University Composition Fee);
Hardship funding – for unforeseen difficulties;
Maternity/Paternity funding – should you require it, you may apply to intermit your studies for up to 6 months and continue to receive your maintenance allowance during this time;
Some fourth year funding for PhD Scholars may be provided.
Eligibility
You can apply for a Gates Cambridge Scholarship if you are:
A citizen of any country outside the United Kingdom;
Applying to pursue one of the following full-time residential courses of study at the University of Cambridge:

PhD (three year research-only degree)
MSc or MLitt (two year research-only degree)
One year postgraduate course (e.g. MPhil, LLM, MASt, Diploma, MBA etc.)
Selection Criteria
Applicants are selected based on the following criteria:
Outstanding intellectual ability
Leadership potential
A commitment to improving the lives of others
A good fit between the applicant's qualifications and aspirations and the postgraduate programme at Cambridge for which they are applying.
Application
Applicants must submit an application for graduate admission, a College place and funding – including a Gates Cambridge Scholarship – via the University's Graduate Applicant Portal.
In addition to the section for admission, the University's graduate application form includes a specific Gates Cambridge section which asks applicants to submit the following:

A 3,000 character (500 word) statement about their fit with the Gates Cambridge programme;
A (non-academic) reference about their fit with Gates Cambridge;
Other materials: All applicants must submit an up to date CV/resume. For PhD applicant only a research proposal is also required – if it has not already submitted as part of the application for the course.
For more information, visit Gates Cambridge Scholarship Programme.