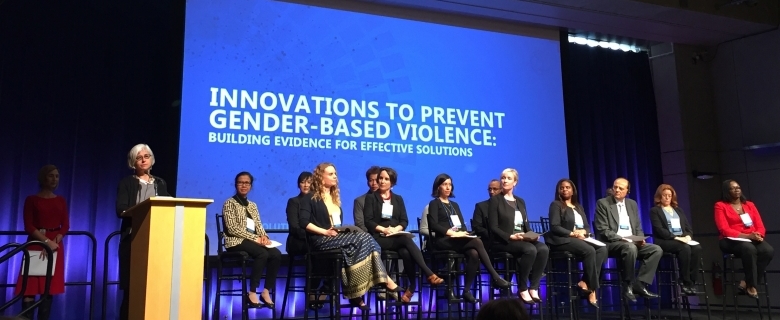 Call for Proposals: World Bank/SVRI Grant for Innovations to Prevent Gender Based Violence 2018
Deadline: October 6, 2017
Are you interested in preventing Gender Based Violence? The SVRI (Sexual Violence Research Initiative) and the WBG (World Bank Group) are requesting proposals for innovative research and interventions or related activities that will contribute to the prevention and response of gender-based violence in low and middle income countries. Gender-based violence (GBV) is one of the greatest social, economic and development challenges facing the world today. Violence against women and girls impedes full participation in society, limits access to education, labor force participation and ownership of assets, to name a few.
To contribute to this global effort, SVRI and WBG have created the Sexual Violence Research Initiative and the World Bank Group's Development Marketplace for Innovation in the prevention and response to gender-based violence in low and middle income settings. Due to high levels of competition and limited funds available, the quality of the proposal submitted will determine success in your funding application.
Benefits
Awards of up to $100,000 are available. Any applications with requests exceeding USD100,000 will not be considered.
Successful grant applicant who accepts the award would be required to participate in a week of workshops, including a high-level award ceremony in Washington, D.C. in April 2018.
Accommodation and travel costs of participation will be covered by the World Bank.
Eligibility
All organizations based in low and middle-income countries (as classified by the World Bank), and organizations not based in low and middle-income countries but working in such countries with local partners are eligible to apply.
Applications for support under this award should be affiliated with a recognized, legally constituted research institution or non-government organization with existing research or programming capacity.
A maximum of two proposals can be considered for funding per applicant. Only one award through this mechanism may be held by an applicant until the project has been completed.
Award applications that are proposing work on behalf of UN Agencies will not be considered.
The activities supported under this award should be for a maximum of 24 months duration, with the expectation that the award will cover all, or the majority of, the costs of the activities specified.
Application
All applications must be submitted via proposalCENTRAL.
If you are a first time user of proposalCENTRAL you must first register before you can proceed with your application.
For more information, please read the application guidelines or visit World Bank.