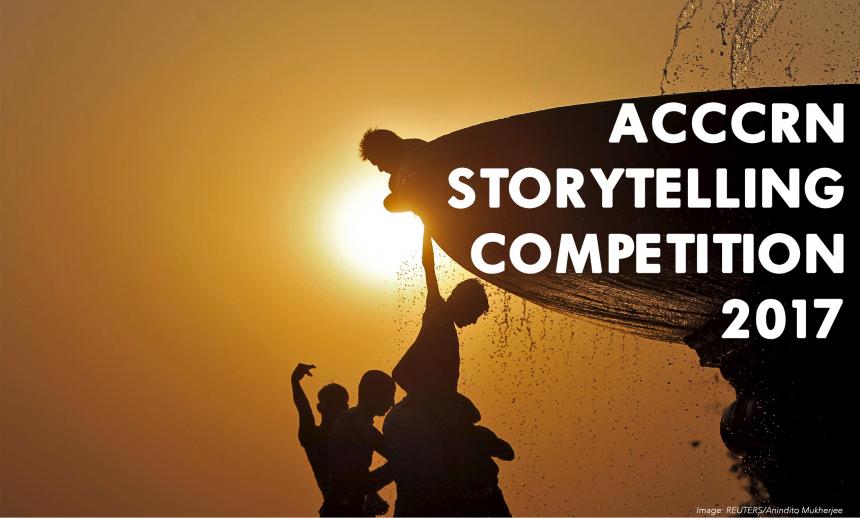 Call for Entries: ACCCRN Storytelling Competition 2017
Deadline: September 30, 2017
The Asian Cities Climate Change Resilience Network (ACCCRN) in partnership with Thomson Reuters Foundation (TRF) is pleased to announce the ACCCRN Storytelling Competition 2017. The competition is designed to promote important stories on why and how climate change action should work for everyone.
The ACCCR Network and TRF share the goal of raising awareness about climate change – including how cities are coping with rising temperatures and how the actions could impact everyone. They invite you to tell a story about an urban heat risk issue you feel deserves urgent attention, whether you've worked on it yourself or come across it in your travels in Asia. The competition theme is "Beat the Heat: How inclusive cities are coping with rising temperatures"
Sub-Themes
What are the impacts of rising temperatures on ecosystems, agriculture, and the social, health, and economic situation in cities? Have the impacts of rising temperatures been unfairly distributed, costing the poor or those with low socioeconomic status – including because of gender or age – more?
What actions should be taken by cities to overcome these problems? How should they develop interventions and ensure they are accessible and reach out effectively to the most vulnerable people? Can understanding the root causes of inequalities ensure interventions promote adaptation and the building of resilience to climate hazards in an intelligent and just way?
How can innovation by the affected communities themselves address the challenges they are facing? Can they help create a social safety net for those most at risk within vulnerable groups?
Prizes
Shortlisted finalists will be invited to attend an Urban Heat Resilience storytelling workshop organised by Mercy Corps Indonesia and TRF from November 27-30, 2017 in Jakarta, Indonesia. The two top competition winners will be announced on the last day of the workshop;
The first winner will receive an iPad and the second winner will receive mirror less camera;
The winning entry will be posted as a blog on the Thomson Reuters Foundation news website and ACCCRN Network's website.
Eligibility
Entrants should be registered as an ACCCRN member;
Entries will be accepted from writers, bloggers and others interested in climate change resilience issues in Asia;
Entries should be written in English;
Entries must be your own original, previously unpublished material;
Entries should avoid the use of jargon and acronyms;
Credit should be given, in a journalistic style (not in footnotes), to any original material from other sources;
You can enter a maximum of two different storytelling articles.
Application
Use this template for your submission: Storytelling Template 2017
Article(s) should accompanied by one or more original, previously unpublished images that are horizontal, in focus and include people in them, and that have a caption stating what is happening and where in the photo;
The maximum length of each entry: 800 words;
Please include a short biography of yourself (max 100 words) along with the article(s);
Submit your entries here.
Deadline for the competition is September 30, 2017 at 11:59 PM Jakarta Time.
For more information, visit ACCCRN Storytelling Competition.