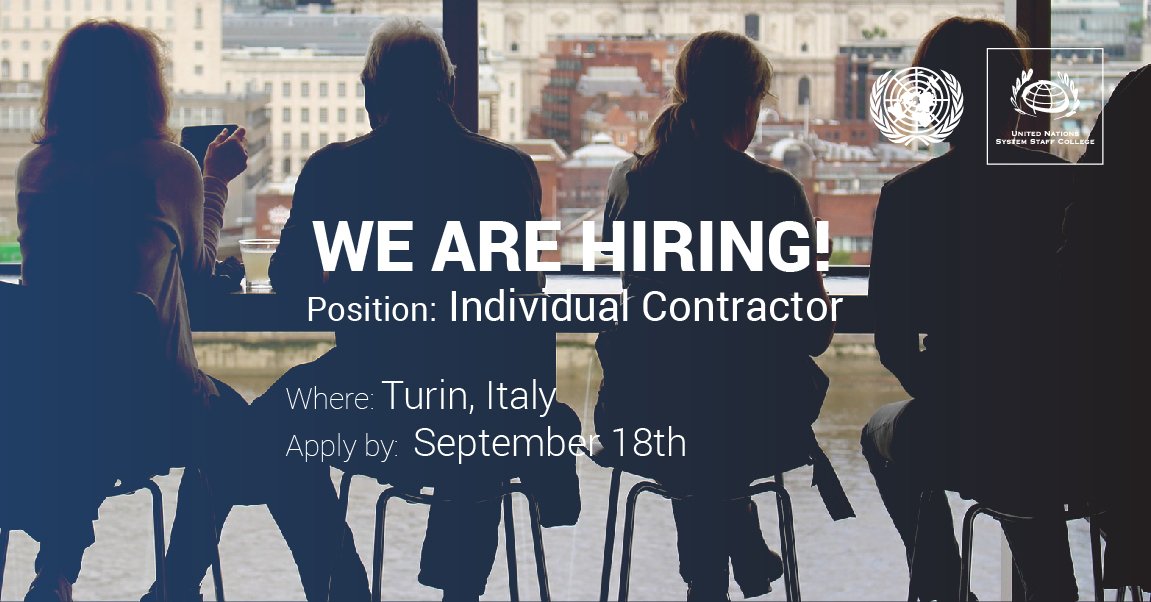 UNSSC is hiring an Individual Contractor to support their Courses – Turin, Italy
Deadline: September 18, 2017
The United Nations System Staff College (UNSSC) is hiring an Individual Contractor to support their courses! The contractor will provide administrative support for classroom training and second technical support for online learning. UNSSC, based in Turin, Italy with an Office in Bonn, Germany serves as a distinct, system-wide, knowledge management and learning institution, with a view to fostering a cohesive management culture across the United Nations system.
The UNLOCK Team of the College is responsible for providing strategic leadership and management development learning as well as innovation and change management learning solutions, with a view to strengthening collaboration within the system in areas of common organizational responsibility. It is also responsible for increasing operational effectiveness and enhancing UNSSC cooperation within the UN system as well as with external international and local partners, and UN-affiliated organisations. The UNLOCK Team approaches leadership, innovation and change management through a very realistic lens, focusing on concrete issues and problems that UN staff face and responding to them.
Job Details
Vacancy No: IC/004/2017
Post Title: Individual Contractor
Organizational Unit: UNLOCK
Duty Station: Turin, Italy
Duration: October – December 2017
Under the overall supervision of the Senior Programme Manager, for UNLOCK, and direct supervision of the Course Coordinator, the specific duties and responsibilities of the individual contractor fall into two categories, first, administrative support for classroom training and second technical support for online learning.
Administrative Support for training (approximately 70%)
Support of on-line learning (approximately 30%)
Eligibility
Education: Bachelor's degree in Communications Sciences, Social and Political Sciences, Educational Studies or other related areas;
A minimum of 2 – 3 years of practical experience in supporting the design, development, and delivery of learning products, including several engagements with e-learning; Familiarity with online learning and social media tools; Proven ability to use Microsoft Office, as well as web-based authoring, web conferencing and learning management tools; Ability to effectively deal with stress factor occurring in heavy workload periods; Ability to meet deadlines; Collaborative working style;
Languages: Fluency (written and oral) in English (required) and French (desired) or Italian (advantage)
Application
The application (in English) should include the following:
a duly completed, updated and signed P11 form.
a motivation letter elaborating in a concise style why you consider yourself qualified for this position The application should be submitted preferably by e-mail to [email protected] with a subject title of "Application for Individual Contractor 004 – UNLOCK".
Late submission of application and/or incomplete application will not be considered. Due to the volume of applications received, receipt of applications cannot be acknowledged individually. Only those candidates who are successful at the application pre-screening stage will be contacted shortly after the application deadline.
What You Should Know About e-Learning or LMS
A learning management system (LMS) is a software application program for the delivery, documentation, administration, tracking, and reporting of training programs, educational courses, or development programs. This concept emerged directly from electronic learning or e-Learning.
With enterprise LMS, it's now possible to convert your in-person training (traditional type) to virtual instructor-led training. Every business, including contractors, should have a grasp of about LMS, making virtual learning possible, which greatly applies during the coronavirus pandemic.
Here are the important things you should know about LMS:
Who Uses Learning Management Software?
Aside from educational institutions, anybody who is doing e-Learning is practically using an LMS, including the following:
Businesses of all types and sizes, from small and medium businesses to large multinational enterprises, including contractors
Organizations – from your local cooperative to non-profits and Non-Government Organizations
Local governments and Government agencies
Traditional educational institutions, like schools, colleges, and universities
Online and e-Learning based educational institutions
What is LMS used for?
It is used for all types of learning activities. Also, it's an invaluable business tool embraced by organizations and enterprises – both big and small.
What are some examples of LMS applications or common uses?
Employee Training: With a business LMS, it's possible to eliminate business disruptions and reduce employee training costs associated with traditional learning. It allows you to let your employees study the learning material online, even at home, at their own pace.
Also, you spend less time, money, and effort as compared to bringing in instructors to give your employees conventional seminars. Employers also gain better insights into the progress of their employees with integrated tracking and monitoring and reporting tools.
Employee Orientation: With LMS, training details are given much attention, enabling CEOs to send messages to new hires and explain all important details of their role and responsibilities, including information about benefits and career advancement opportunities. Hence, on-boarding new hires can be automated and managed easily by a business LMS
For more information, visit UNSSC Individual Contractor.