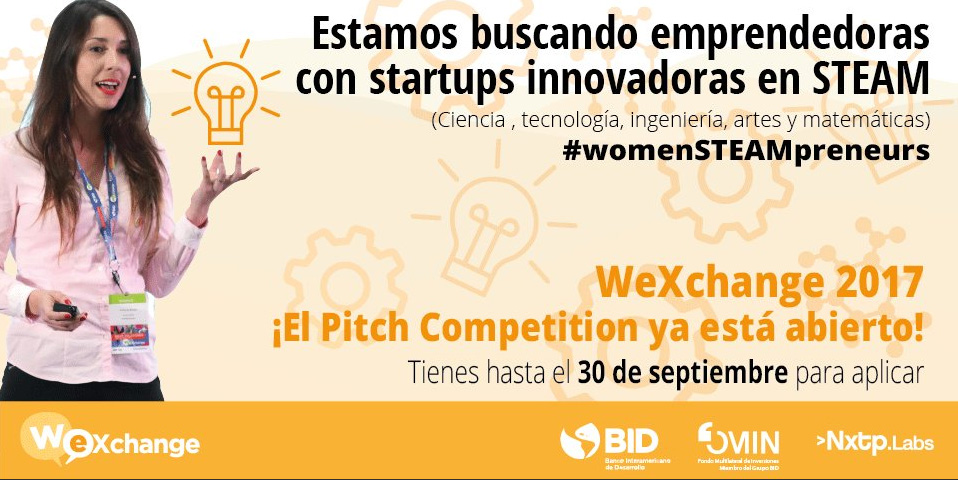 WeXchange Pitch Competition for Women in STEAM 2017
Deadline: September 30, 2017
Application for the 2017 WeXchange Pitch Competition is now Open. WeXchange is the leading forum for connecting and strengthening women entrepreneurs in Latin America and the Caribbean. Now in its fifth year, the theme of this year's forum is "Women Entrepreneurs Transforming the World through Technology." Women entrepreneurs who seek to solve problems using their knowledge of science, technology, engineering, arts and mathematics (STEAM) are invited to participate.
This edition will also feature the Pitch Competition, which will award a prize to the most innovative and dynamic STEAM-focused entrepreneur in the region. Its aim is to identify and recognize businesses with a strong technological and innovation component, which have at least one woman in the founding team and is targeted to Latin America and the Caribbean. Six finalists will be selected, who will make their pitch to a panel of independent experts during the WeXchange forum in Santiago, Chile.
Prize
The prize for the winner and her business partner will be participation in a one-week immersion program in Silicon Valley.
Eligibility
Open to Women entrepreneurs that are currently totally or partially operating in Latin America and the Caribbean, and are interested in rapidly scaling up their digital and technological startups in the areas of science, technology, engineering, art and math (STEAM);
The startups must have at least a 90 percent technological component in their DNA;
The entrepreneurial team must have at least one woman in its founding team (all of the members must be involved full-time).
Each applicant can present only one company in this contest;
Applicants must have a for-profit company operating in a Latin American and Caribbean country;
Applicants must be willing to commit themselves full-time to the development, pre-selection and selection, as well as preparation and mentoring if they are chosen;
Applicants must also be willing to travel to Santiago, Chile, to participate in the final competition, which will be held on December 5.
Application
Submit your application for the WeXchange Pitch Competition here.
For more information, visit WeXchange Pitch Competition.