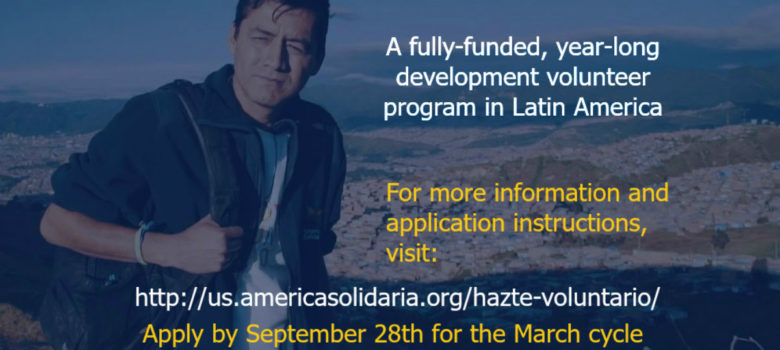 América Solidaria Volunteer Service Program 2018-2019 in Latin America (fully-funded)
Deadline: September 28, 2017
Apply today for the América Solidaria Volunteer Service Program to serve in Latin America alongside neighbors in the region! The fellowship is a 1-year professional service program that covers the volunteer's travel and basic living costs. It starts with an orientation that provides cross-cultural, technical, health, and safety training either in Santiago, Chile or Bogota, Colombia. Further, during the twelve months of in-country placement, fellows serve within the host organizations in the communities ranging from small rural villages to large urban centers.
Upon completion of the program, fellows become true advocates of change equipped with the leadership skills, technical expertise and access to the network of changemakers across the Americas.
Fellows' education, work experience, skills sets, and countries of origin are as diverse as the projects they are involved in. América Solidaria invests a lot of effort into matching prospective fellows with host organizations in order to both suit fellows' professional interests and serve the needs of the local communities.
Benefits
The following will be the benefits of the program:
Cost of travel to and from country of service will be covered;
Visa expenses;
Out-of-country two week orientation training;
Placement at a host organization;
Housing and monthly living stipend adequate to support a modest lifestyle for one person;
Health insurance;
Access to the alumni network.
Eligibility
Candidates should be between 23-35 years old;
Have a Bachelor's degree or equivalent;
Be fluent in Spanish;
Professional experience in the nonprofit or public sector;
Show demonstrated leadership and collaborative skills.
Areas of Expertise
Social Sciences: Sociology; psychology (including community psychology), psychotherapy, social work;
Health: Midwifery and obstetrics, therapy, (including occupations therapy), kinesiology, physiotherapy, nutrition, speech and language pathology;
Education: Basic education, early childhood education, pedagogy, special education;
Other: Agricultural engineering, accounting.
Application
Applications are accepted on a rolling basis. However, for full consideration, please submit your application by September 28, 2017 when review of applications begins.
For more information, visit América Solidaria Service Program.