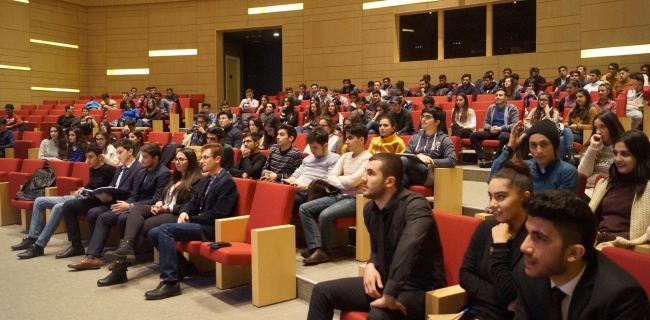 Central Asia-Azerbaijan Fellowship Program 2018 at George Washington University (Fully-funded)
Deadline: October 15, 2017
The George Washington University – Elliott School of International Affairs' Central Asia Program (CAP) welcomes applications for its Central Asia-Azerbaijan Fellowship Program 2018.
The Central Asia-Azerbaijan Fellowship Program (CAAFP) is intended for young professionals – scholars, government officials, policy experts, human rights and activists – who want to enhance their research and analytical skills and seek to become public policy leaders in their respective countries. More generally, the fellowship program seeks to provide a platform for the exchange of ideas and to build lasting intellectual networks among the Central Asian, Azerbaijani, and U.S. scholarly and policy communities.
CAAFP fellows will spend five months in residence at GW, where they will participate in tailor-made programs and be introduced to U.S. policy and expert communities in both Washington, DC and New York. Fellows are required to attend seminars, workshops and training sessions, to write one policy brief on a predetermined theme, and to present their research at two public seminars. Throughout their fellowship, fellows will be mentored by program faculty affiliates.
Fellowship Theme
The theme for the Spring 2018 session is New Urban Phenomena in Central Asia: City Migration, Landscapes, Socioeconomic Niches, and Cultures
With urbanization rates in Central Asia steadily rising, cities occupy a central importance in the functioning of the Central Asian countries and their citizens' daily lives. However, specific roles that each city plays, as well as political, economic, social, and cultural phenomena that cities produce or become hosts to, are diverse and constantly evolving. In this context, which processes taking place in the region's urban centers can be identified as new urban phenomena and why? What processes, junctures, continuities and discontinuities characterize such urban phenomena as city migration, city landscapes, old and new socioeconomic niches and cultural transformations, among others? What significance do they hold for a particular city and the region as a whole?
Applicants may focus on one country or consider several countries in the region.
In their proposal for the policy paper, applicants need to:
Explain the relevance of the proposed research project to the call theme
Analyze the significance and implications of your research project for the region
Provide feasible and specific policy recommendations
Cost
Three fellows will be selected for Spring 2018.  Fellows will be awarded a monthly stipend of $3,000 (subject to taxes);
Travel to and from Central Asia to Washington, DC will also be covered.
Eligibility
Applicants must be between 25 and 40 years of age.
Applicants must be a citizen of any of the following six countries: Azerbaijan, Kazakhstan, Kyrgyzstan, Uzbekistan, Tajikistan, or Turkmenistan AND currently reside in one of the six countries.
Applicants must have a background in government, policy, academia, human rights, or democracy.
Academic candidates must possess a Master's degree and have experience in policy-oriented activities. For non-academics an equivalent degree of professional achievement is expected.
Applicants must be fluent in both written and spoken English.
Application
Apply online now
Please prepare to submit your personal contact information and the following documents:

A letter of motivation
A concise proposal for a policy paper, written in English, on the proposed theme (3 to 5 pages)
Resume

Incomplete or late applications will not be considered.
Important Dates
Applications for the Spring Session (January 15 – June 15, 2018) should be received no later than Sunday, October 15, 2017.
Applicants will be notified by email by mid-November 2017.
For more information, visit Central Asia-Azerbaijan Fellowship Program.