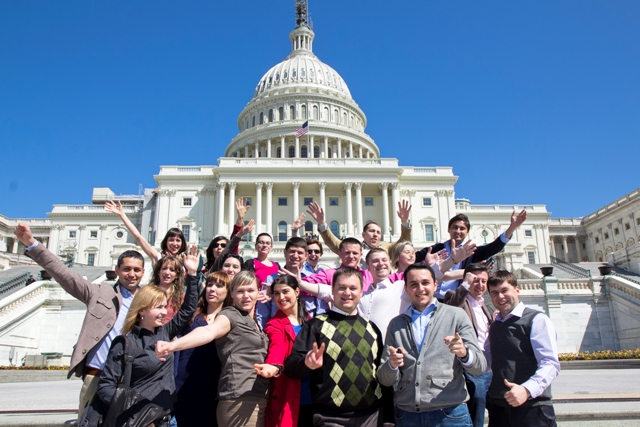 Apply: US Department of States Professional Fellows Program 2018 (fully-funded)
Deadline: November 13, 2017
Call for application is ongoing for the Professional Fellows Program 2018. The program brings emerging leaders to the United States for intensive fellowships designed to broaden their professional expertise. PFP experiences are often very fellow-driven. This means that the fellows who are most successful often think about their goals and objectives for the program in advance of their arrival and are able to share them with their future worksites along with information about the fellows' background and experiences at home.
While at your US worksite you will likely engage in a wide range of activities, which can include shadowing important meetings, conducting research, presenting on relevant topics, participating in office events, and many other activities. The Professional Fellows Program (PFP) and YSEALI PFP are sponsored by the US Department of State's Bureau of Educational and Cultural Affairs', Professional Fellows Division and administered by American Councils for International Education.
American Councils for International Education is a premier, international nonprofit creating educational opportunities that prepare individuals and institutions to succeed in an increasingly interconnected world. Through academic exchanges, overseas language immersion, and educational development programs, American Councils designs and administers innovative programs that broaden individual perspectives, increase knowledge, and deepen understanding.
Benefits
Work in a full-time fellowship placement in a US worksite dealing with issues relating to your work at home. While there, you will gain first-hand knowledge about US organizations and institutions and build networks and relationships with US counterparts.
Participate in a fully-funded program with comprehensive on program support. Travel and living arrangements will be covered as well as emergency health insurance, and visa fees on program.
Become part of prestigious networks -including YSEALI (for Southeast Asian participants only) and PFP. Alumni will gain access to tremendous resources and an international network of like-minded professionals spanning the globe.
Eligibility
To participate in the Professional Fellows Program you must be:
25-35 years old;
A citizen and current resident of either: Armenia, Azerbaijan, Belarus, Brunei, Burma, Cambodia, Georgia, Indonesia, Laos, Malaysia, Moldova, Philippines, Singapore, Thailand, Turkey, Russia, Ukraine, and Vietnam;

Speak fluent English to work full-time in a US worksite;

Interested in participating in a reciprocal program for Americans coming to your country;
Have at least two years relevant work experience and be currently employed;
Have demonstrated leadership and collaborative skills;
Be a professional fit for the PFP theme that your country participates in

Legislative – Armenia, Azerbaijan, Georgia, Moldova, Turkey, Ukraine
Innovation and Entrepreneurship – Belarus, Russia
Economic Empowerment – Brunei, Burma, Cambodia, Indonesia, Laos, Malaysia, Philippines, Singapore, Thailand, and Vietnam.
Application
Interested applicants are required to create an AIS form account here.
For more information, visit Professional Fellows Program.