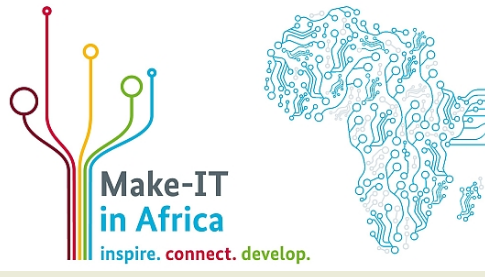 Make-IT Accelerator Program 2017 for Tech Start-ups in Nigeria & Kenya
Deadline: October 27, 2017
Make-IT in Africa is looking for 30 digital startups eager to scale their innovation and boost their growth to take part in their Accelerator Program. The free 9-month acceleration programme supports you to achieve B2B cooperation- and investment-readiness. Based in Nairobi, Kenya or Lagos, Nigeria, the Make-IT Accelerator is designed and implemented in collaboration with highly renowned local hubs, corporate partners and investment experts.
The Make-IT Accelerator includes three structured phases:
Inspire – Achieve the Capacity for Growth (January – March 2018): Cohort-based training and capacity development for growth, including individualised needs assessments and scaling plans and regular meetings with experienced acceleration managers to help you develop and grow your business
Connect – From Cooperation Readiness to Cooperation (April – June 2018): B2B cooperation readiness training, individual support, preferred access to B2B matchmaking events with major international corporates and access to the Make-IT mentor pool as needed
Develop – From Investment Readiness to Investment (June – August 2018): Support from finance and investment experts, who will help you achieve investment readiness, prepare you with the skills to negotiate investment deals and provide pitch training for a final Demo Day in Lagos or Nairobi.
Benefits
While the Make-IT Ecosystem Accelerator is free for selected startups, GIZ does not provide direct funding for your business. However, throughout the nine months, you will have access to a range of services and support available to you, including:
Local and international exposure: Be featured as a high-potential startup on the Make-IT website and present your business at various local and international events, e.g. Sankalp, CeBIT etc.
Corporate partnership and investment opportunities: Improve your skills and capacity to negotiate partnerships and investment deals and participate in structured matchmaking opportunities with their network of prominent investors and corporate partners;
Networks. Attend various events hosted by Make-IT partners (incl. corporates, investors, industry experts and representatives of the private and public sectors);
Mentorship: Connect with their pool of highly qualified local and international mentors and experts;
Supplemental education: Increase your knowledge with access to their curated capacity-building content and workshops and a community of peers, experts, corporates and investors to support continued education and development of startups throughout their 9-month journey;
Co-working membership: Receive office space for your team with a free 9-month co-working membership.
Eligibility
Open to for profit organisations, registered business with a team of at least two people (must be registered in an African country);
In operation for at least one full year;
Already have digital (software or hardware) product or service on the market and evidence of revenue;
Clearly demonstrate potential to scale;
Based in or able to work from Nairobi or Lagos for the first six months of the programme (or travel there for regular meetings);
Have a business model with a social Impact. That means that it presents a solution to a social problem, and has positive impact on society (locally and/or globally). They define 'social' as the basics of life (especially in terms of health, environment, food, agriculture).
Application
Application Timeline
October 27, 2017: Application Deadline
November 10, 2017: Announcement and invitation of pre-selected top startups 
November 20-24, 2017: Final Selection Round in Lagos (Nigeria)
December 4-8, 2017: Final Selection Round in Nairobi (Kenya)
January 2018: Start of the Make-IT Accelerator
For more information, visit Make-it Accelerator in Nigeria & Kenya.