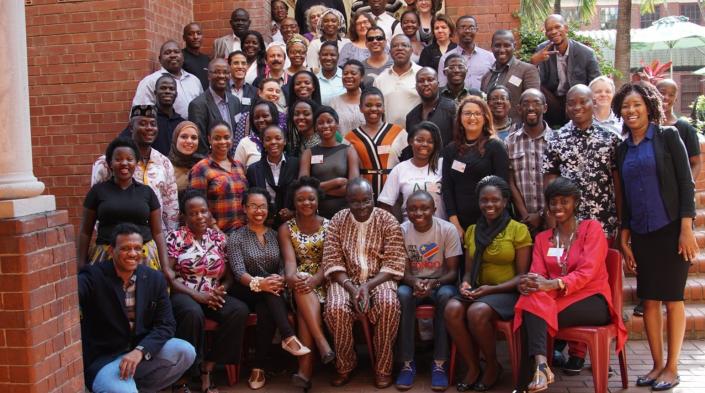 Call for Applications: African School on Internet Governance 2017 in Cairo, Egypt
Deadline: November 2017
The Association for Progressive Communications (APC) is pleased to announce the call for applications for the fifth African School on Internet Governance (AfriSIG). AfriSIG's primary goal is to give Africans from multiple sectors and stakeholder groups the opportunity to gain knowledge that will enable them to participate confidently and effectively in internet governance processes and debates at the national, regional and global levels.
AfriSIG has built a multidisciplinary cadre of expertise in internet governance on the continent. The School has brought together diverse groups of professionals from government, business, academia and civil society, placing an emphasis on enhancing multistakeholder cooperation in national to global internet policy and development. The 2017 School will be held in Cairo, Egypt from 28 November to 2 December, to coincide with the African Internet Governance Forum (AfIGF) which will also take place in Cairo, from 4 to 6 December 2017.
The School is structured as a five-day intensive learning and knowledge-sharing event which will include the following topics:
History and overview of internet governance, with an emphasis on multistakeholder approaches to internet governance.
Regional, national and international institutions involved in internet policy and regulation.
Internet and communications policy and development, and their relationship with the SDGs and human rights.
Internet standards and protocols.
Applied negotiation of principles for significant topical issues such as the so-called "right to forget", intentional network interruptions in times of civic and political unrest, regulating cybercrimes and cybersecurity, and responding to hate and violence online.
Funding
AfriSIG organisers will only cover costs for shared accommodation and meals for the duration of the School. However, successful participants have the option of supplementing the cost of a single room should this be their preference.
Successful participants or their employers will be expected to cover the cost of their travel, visas and local transport to and from their local airport. In that regard, the school also encourages self-funded applicants.
Eligibility
The School will accept applications from leaders and professionals from:
Government ministries and departments, national and regional communications regulatory authorities and public sector information and communications services such as public libraries.
Parliamentary portfolio committees that deal with communications issues.
Network operators, service providers and other businesses who form part of the internet industry.
Civil society and non-governmental organisations who interact with or operate in the internet-related information and communications sector.
Human rights institutions dealing with internet issues, such as national or regional human rights commissions.
Community-based information and communications services and the broader community informatics sector.
The judiciary and other members of the legal community working with internet and communications law.
Members of law enforcement agencies who deal with internet issues.
The internet technical community.
Academic and research institutions that deal with internet issues.
Media organisations and outlets that focus on the internet.
Application
To apply please complete the form here by Friday, 1 November 2017.
For enquiries relating to investing in the advancement of our School's vision and mission through funding and sponsorship, please contact the AfriSIG coordinator, Anriette Esterhuysen, at [email protected].
For more information, visit African School on Internet Governance.