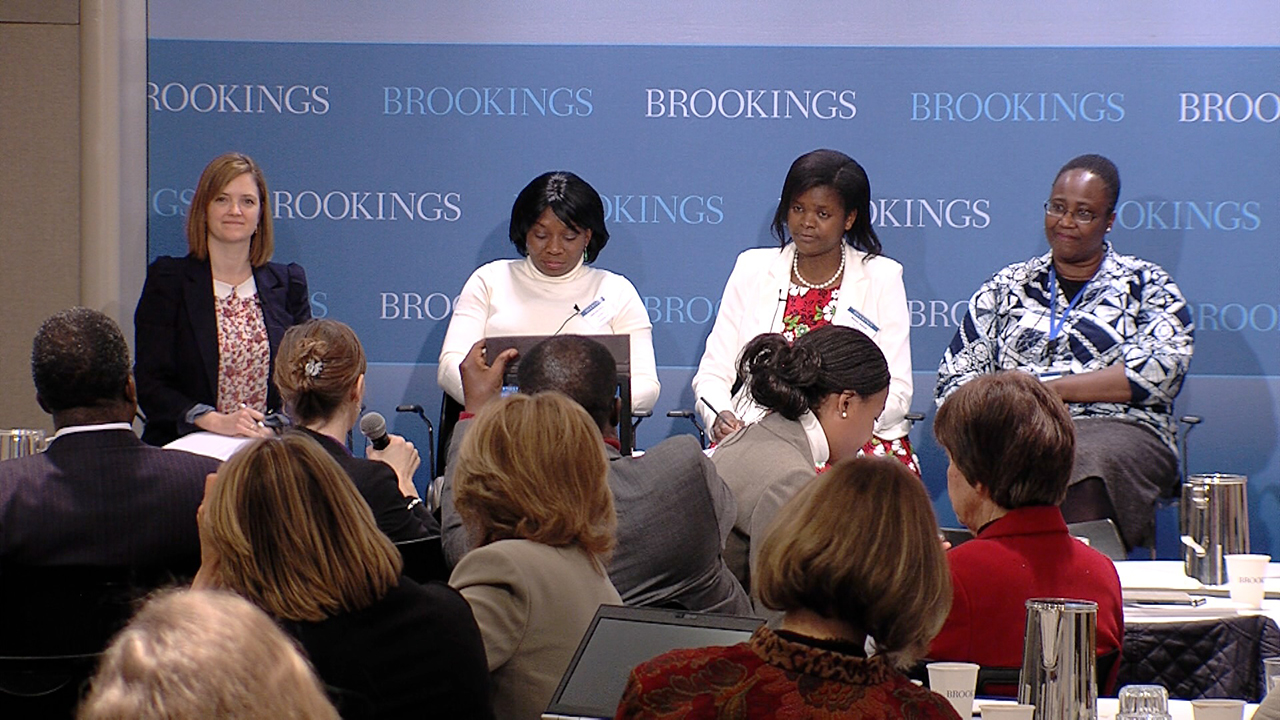 Echidna Global Scholars Program at the Brookings 2018 (Funded)
Deadline: November 13 , 2017
Applications are now invited for the Echidna Global Scholars Program. The Echidna Global Scholars Program is a visiting fellowship hosted by the Center for Universal Education (CUE) at the Brookings Institution. The program aims to build the research and analytical skills of NGO leaders and academics who have substantial experience and ties to developing countries.
Echidna Global Scholars spend four to six months at Brookings pursuing research on global education issues, with a specific focus on improving learning opportunities and outcomes for girls in the developing world. Upon completion of their fellowship, CUE supports the scholars in implementing an action plan that applies their new skills and expertise in the developing country where they have demonstrated substantial ties.
Responsibilities
During their residency from early July 2018 to mid-November 2018 at the Brookings Institution, Echidna Global Scholars will do the following:
Scholars will work with the center staff on developing their specific research project and a strategy for policy impact.
They will also participate in professional development training and networking opportunities.
Scholars will draw on the resources of Brookings' scholars, as well as the extended public policy community in Washington, D.C. by participating in additional meetings and conferences, and networking with the broader development community.
Expectations of Echidna Global Scholars include the ability

to interact with other Brookings scholars and the wider policy community,
to conduct professional, in-depth research, and
deliver spoken presentations in English.
Once selected, Echidna Global Scholars will be expected to collect data prior to their arrival in Washington, D.C. and work on an extensive, cutting-edge written research product during their residency, as well as a post-residency project proposal with the intent to implement their research in their home country upon completion of the program.
Benefits
Please note that this position is a part- time resident fellowship at Brookings (it is not an employee position). Applicants selected for the fellowship will receive a living stipend of USD $5,000 a month (subject to U.S. tax withholding), paid housing for the four-and-a-half-month term, and round-trip travel expenses.
Eligibility
Education /Experience Requirements:
The program selects professionals with substantial experience in and ties to developing countries, a demonstrated intent to return to a developing country, and a passion and demonstrated commitment to girls' education.
Applicants should have a background in education, development, economics, or a related area, with at least 15 years of professional experience in either research/academia; non-government and civil society; government; or business.
Master's degree required; Ph.D. or research background strongly preferred.
Knowledge/Skills Requirements:
Strong analytical and writing skills.
Successful applicants will have an intimate understanding of education development issues and/or issues related to development and gender.
Applicants who have not worked explicitly on girls' education previously are welcome to apply, but should include an explanation of how this focus on girls' education can be integrated successfully into their current and future work.
Other Requirement
Echidna Global Scholars are encouraged to include areas of research focused on Second Generation education priorities for girls.
The five "second generation" priorities, highlighted in Raising the Global Ambition  for Girls' Education include:

1) ensuring that girls can attend and complete primary and secondary school;
2) making schools safer and more secure;
3) improving the quality of learning for girls;
4) supporting girls' transition to higher education and employment; and
5) cultivating local country leaders to champion this work at the grassroots level.

Echidna Global Scholars are also encouraged to include areas of research focused on girls' skills development programming that targets specific age brackets or other girls' education issues lacking evidence.
Echidna Global Scholars must be available for a full-time, on-site affiliation with the Brookings Institution for the entire duration of the residency of the program as well as a pre-arrival data collection phase of research prior to their arrival.
Echidna Global Scholars are required to conduct research on an approved topic.
Scholars will also present their research papers at a Brookings seminar or event at the end of the residency.
Each Scholar is expected to be an active participant in Brookings and CUE activities, including, but not limited to, regularly-organized organizational staff meetings, informal discussions, seminars, presentations, and other CUE and Brookings events.  
Application
Attach your Curriculum vitae or resume and cover letter to include a list of fellowships, honors, awards, funded research, or current foundation support that you have received, as well as publications. Please attach curriculum vitae or resume and cover letter as one document when you apply.
Attach answers to Questionnaire in the Writing Sample section. Click here to access document
Attach Research Project Proposal in the Writing Sample section. Click  here to access document
*Documents must be saved with a format of Last Name, First Name and document name. Note that letter of recommendations, writing samples and transcripts are NOT required. Please upload Questionnaire and Research Project Proposal in the Writing Sample section.
Only applicants selected for interviews will be contacted. Candidates selected for interviews may be asked to submit additional materials. Incomplete applications, and any applications received after the deadline will not be considered. If you require visa sponsorship to participate in this fellowship program, your English proficiency will be verified via an objective assessment as required by the U.S. Department of State.
See Application FAQ
For more information, visit Echidna Global Scholars Program.