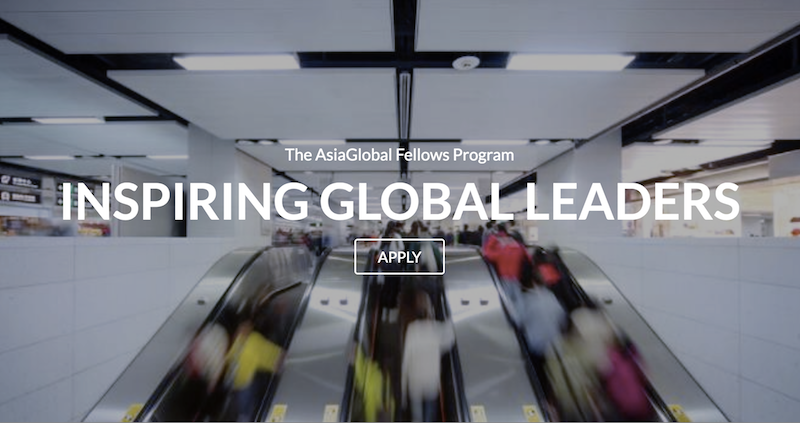 AsiaGlobal Fellows Program for Midcareer Professionals 2018 (Fully-funded)
Deadline: January 31, 2018
Applications are now accepted for the AsiaGlobal Fellows Program, which provides inter-disciplinary, intensive leadership development and networking opportunities for mid-career professionals interested in Asian public policy matters. They are looking for up to 16 Fellows with leadership skills and the potential to influence politics, policy-making, business, or civil society.
The AsiaGlobal Fellows Program is a 13-week, interdisciplinary program designed to develop the leadership skills of tomorrow's leaders. It consists of lectures by academics, senior government officials and business leaders, skill-training workshops, and onsite visits to Asian capitals and manufacturing centers.
AsiaGlobal Fellows are committed to making a positive impact on society and the world around them. The Program places particular emphasis on public policy and individuals engaged in policy analysis and advice. The Program is an initiative of the Asia Global Institute at The University of Hong Kong.
About the Program
A 13-week residential program at The University of Hong Kong
Provides access to all HKU's educational resources
Features various leadership skills workshops, seminars and lectures
Features trips to different Asian capitals and manufacturing centers
Provides numerous networking opportunities for promising future leaders in a further globalized world
Fellows will conduct policy research and produce a paper on a topic relevant to global affairs.
Benefits
Funded (covers housing and a monthly supplemental stipend for each Fellow)
Travel expenses to and from Hong Kong are to be covered by Fellows, other than in exceptional circumstances
Eligibility
AsiaGlobal Fellows are promising mid-career professionals from around the world. They are policy makers, policy advisors, business, and civil society leaders. They share a common policy interest in Asia, have demonstrated strong leadership potential, and are committed to making a positive impact on society.
For your application to be considered, you must:
be a promising, mid-career individual with between eight and 25 years of working experience.
be actively engaged in politics, policy-making, policy research, civil society, or business.
have a special interest in the Asian region, and possess an orientation towards finding solutions to the challenges of our complex world.
have demonstrated strong capacity to make a positive impact on your organization, society, and the wider world.
have a high level of English proficiency
As an AsiaGlobal Fellow, you will have the opportunity to attend talks and lectures by noted academics and business practitioners, which will be conducted in English. You will be required to answer three essay questions in your application. You will also be asked to write a policy research paper during your time as a Fellow. As such, you will need to have a high-level of proficiency in English reading, writing, listening, and speaking.
Application
Start your online application here.
Applicants who have not heard from the AsiaGlobal Fellows Program by May 1, 2018 can assume that their applications are unsuccessful.
Should you have any further questions about the Program or the procedures for completing the application forms, please contact: [email protected].
For more information, visit AsiaGlobal Fellows Program.