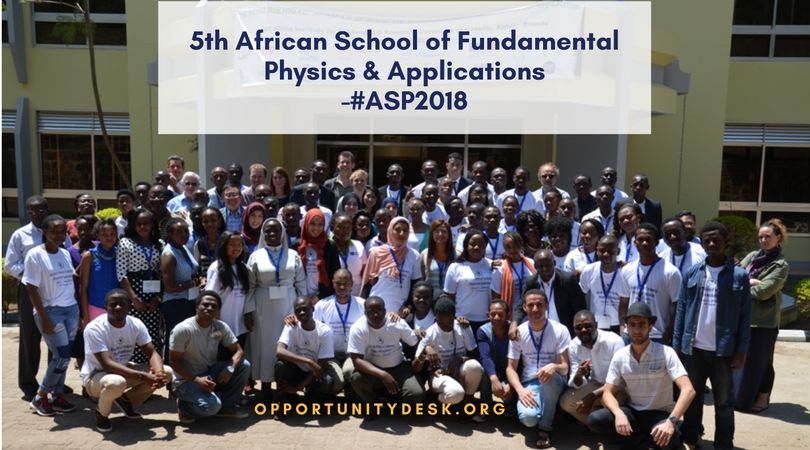 5th African School of Fundamental Physics & Applications – ASP 2018 in Namibia (Fully-funded for Students)
Deadline: January 31, 2018
Students are invited to apply to participate in the 5th edition of the biennial African School of Fundamental Physics and Applications, ASP2018, will take place on June 24 – July 14, 2018 in Namibia. The program aims to increase capacity development in fundamental physics and related applications in Africa.
The ASP activities consist of the following components:
A 3-week scientific program for 60–80 students from all over Africa
A one-week workshop is organized to train 70–80 high school teachers for improved physics teaching;
A one-week program that consists of outreach to motivate 200–250 learners to develop and maintain interest in physics;
A 5-day professional, international scientific conference organized in parallel to the students and teachers activities. It  includes invited and contributed talks in many different tracks;
 A forum that consists of talks, discussions and debate about the role and the future of ASP in capacity development in Africa;
Continuously,  an active mentoring and coaching program to help ASP students.
The scientific program for ASP2018 follows the general program. It includes lectures, demonstrations, experimentation and hands-on tutorials in the following ares:
Astrophysics and Cosmology;
Nuclear and Particle Physics;
Accelerator, Medical and Radiation Physics;
High Performance Computing;
Physics Education;
Physics Communication;
Renewable Energies and Energy Efficiency;
Material Physics.
The specific details of the ASP2018 program are as follow:
Students Program;
High School Teachers Program;
High School Learners Program;
ASP Forum;
ASP Conference Program: ACP2018.
Excursion
It is planned for the weekend of June 30 – July 4, 2018, and it is integrated with the excursion for ACP2018.
Benefits
Selected students will receive travel coverage, accommodation and full board. Priority will be given to:
African students with a minimum of 3-year university education in physics, mathematics, engineering or computer science;
Students that did not attend any previous editions of ASP.
Eligibility
Open to university students from across Africa.
Students should have a minimum of 3 years university education in mathematics, physics, computing and/or engineering;

Application
The application must be completed online, with the following supporting documents:
CV;
All university transcripts;
A statement of motivation explain why you wish to attend this school and what you expect;
One letter of recommendation from the Head of Department or from your  Research/Thesis Advisor explicitly attesting that you a registered student in good standing and you are authorized to attend this school.
To start the online application, click here.
For more information, visit 5th African School of Physics.