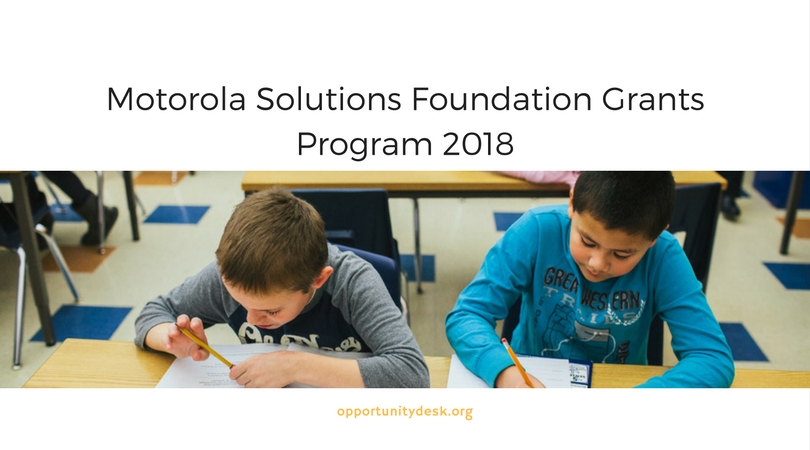 Motorola Solutions Foundation Grants Program 2018 (Up to $50,000)
Deadline: February 2, 2018
The 2018 Motorola Solutions Foundation grant program is now open. Inquiry forms for technology and engineering education and public safety education are being accepted. The Motorola Solutions Foundation, the charitable arm of Motorola Solutions, focuses its funding on public safety, disaster relief, employee volunteerism and education, especially engineering and information technology programming.
About the Foundation
The Motorola Solutions Foundation is the charitable and philanthropic arm of Motorola Solutions, originally founded in 1953. With employees located around the globe, Motorola Solutions seeks to benefit the communities where it operates. The company achieves this by making strategic grants, forging strong community partnerships and fostering innovation.
Awarding over $9 million in grants in 2017, which supported more than 3 million students and first responders affiliated with about 260 organizations in 37 countries, our funding and involvement goes beyond helping those in law enforcement. The foundation also supports organizations that represent veterans, professional and volunteer fire service personnel, EMS professionals and disaster response professionals.
Grant Focus Areas
The Motorola Solutions Foundation will focus its giving in three key areas:
STEM education, specifically focused on technology and engineering,
public safety education and
blended public safety and technology & engineering education programs.
Grant
The maximum request amount is $50,000 USD.
Eligibility
Open to non-profit organizations and institutions within and outside the United States
Organizations must align with Motorola Solutions's public safety and/or technology and engineering education programming.
The organization applying for grant funding must be registered as a 501(c)3 organization, NCES school or school district in the United States, or be able to provide completed charitable equivalency forms if an organization or institution outside the United States.
Application
All inquiry forms must be submitted by Friday, Feb. 2, 2018.
The Motorola Solutions Foundation team will then select those organizations that most align with their public safety and/or technology and engineering education programming.
These organizations will be invited to submit 2018 formal online applications by April 16, 2018 (Note: organizations will be notified to submit a formal online application by late-March, 2018).
Grant award decisions will be announced by late-July 2018.
If you have a question about program content or eligibility, email [email protected].
Apply for a 2018 Motorola Solutions Foundation Grant
For more information, visit Motorola Solutions Foundation Grants.