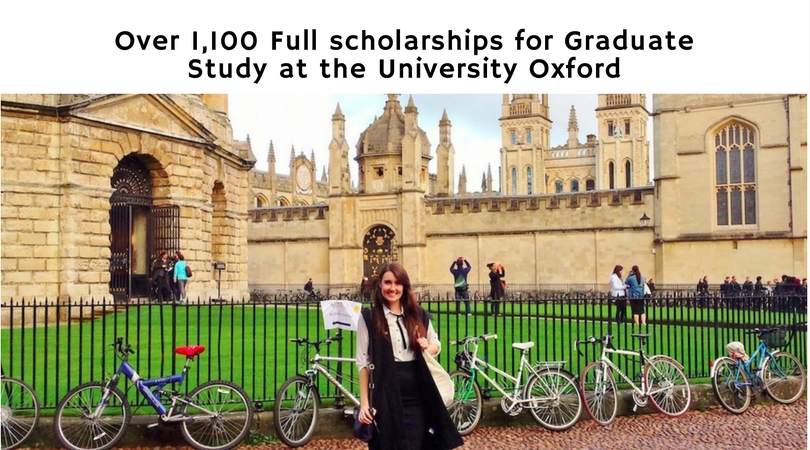 Over 1,100 Full scholarships for Graduate Study at the University Oxford
Deadline: January 19, 2018 (for most programmes)
There are currently over 1,100 full fully-funded scholarships available for new graduate students applying to Oxford by the January deadline.
As an African, what does it mean to be an Oxford student? What defines our experience of being at Oxford? What advice would we give to aspiring applicants? Paul Amayo, Eddie Ndopu, Wilfride Petnga and Victoria Miyandazi share their experiences and insights. They all agree: Do not be afraid to take the first step – apply!
Watch this video produced by the Oxford University Africa Society.
Application
If you submit your application by the relevant January deadline, you are automatically eligible for many of the 1,100+ full scholarships offered by Oxford University.
Below you can find a (non-exhaustive) list of Scholarships available to African applicants tenable at Oxford University:
For Masters Programmes:
Oxford-Pershing Square Graduate Scholarship
Oxford-Wadham Graduate Scholarships for Disabled Students
Oxford-Allan and Nesta Ferguson Graduate Scholarship
Oxford-Mitsui & Co. Europe PLC Graduate Scholarships
Oxford Centre for Islamic Studies (OCIS) Scholarships
Standard Bank Derek Cooper Africa Scholarship
Rhodes Scholarships
Blavatnik School of Government Scholarships
St Antony's College: Eni Scholarship
Swire/Oxford & Cambridge Society of Kenya Scholarships
Said Business School: EY Scholarship Programme
Africa Initiative for Governance Scholarships
For PhD Programmes
Oxford-Oak Foundation Clinical Medicine
Oxford Centre for Islamic Studies (OCIS) Scholarships
Oxford-Sir David Weatherall Graduate Scholarship
Rhodes Scholarships
Nuffield Department of Population Health: NDPH Scholarship
International Development: QEH Scholarship
Green Templeton College: GTC-SBS DPhil Scholarships
St Cross College: ORISHA DPhil Scholarship in Area Studies
St John's College: Ioan and Rosemary James Scholarship
John Kufuor Scholarship
Deadline
For most programmes, this deadline is the 19th of January.
For more information on funding, visit the Graduate Fees and Funding site.
For more information, Visit the Graduate Application Site.