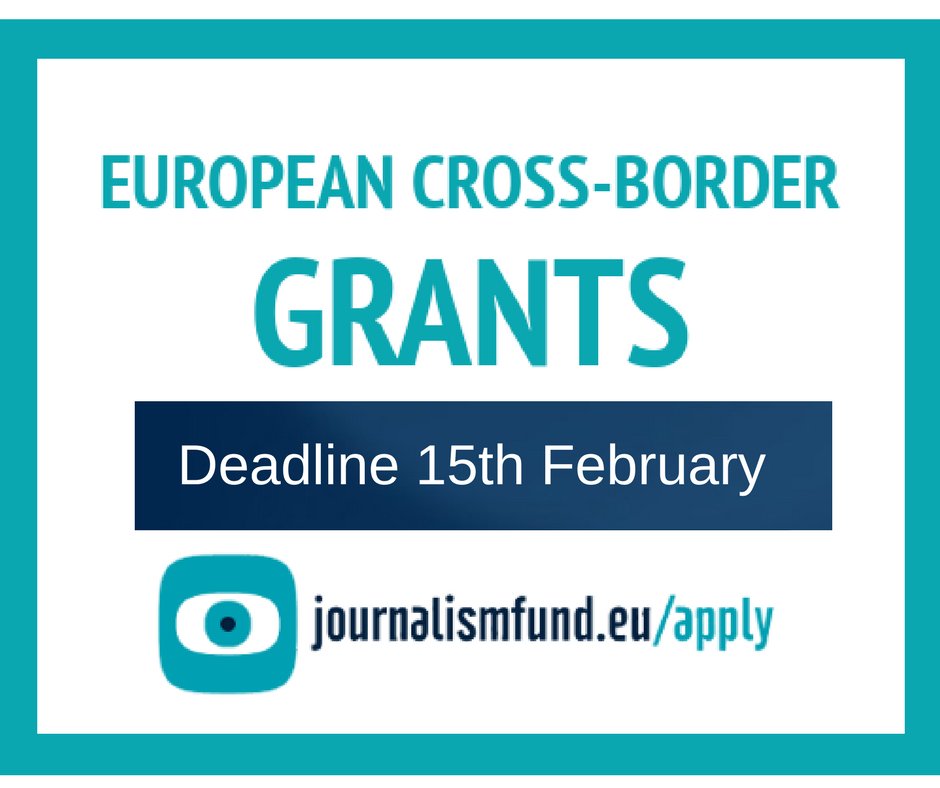 JournalismFund European Cross-border Research Grant 2018
Deadline: February 15, 2018
Do you have a good idea for a cross-border investigative story but have no means to pursue it? Apply for the Journalismfund.eu European Cross-border Research Grant 2018. Journalismfund.eu supports teams of journalists from several countries working out of each their country on a common story thus compiling multiple research competences and safeguarding publication to various audiences.
Journalismfund.eu occasionally supports individual journalists working on European stories. Publication to multiple audiences and in several countries is considered important in order to address the various European audiences and achieve impact for the journalistic stories.
The support takes the form of grants to teams of journalists. They must demonstrate that their project is unusually costly or time-consuming in such a way that the normal support of editors or publishers is not sufficient for the project to be realised. The projects must exceed regular reporting, daily journalism or correspondence. The subject or theme must be European or have a cross-border perspective.
Eligibility
Journalismfund.eu supports journalists living in a Council of Europe country (geographical Europe). When relevant for the story, team members from elsewhere can be accepted, too;
Applicants must be working as professional journalists;
Only natural persons are eligible;
Students are not eligible;
Journalists who were previously allocated a Journalismfund.eu working grant can reapply, but the jury will include the result of previous working grants in their evaluation of the new application.
Jury Criteria
Each proposal will be assessed by the jurors on the basis these criteria:
Added value compared to mainstream coverage / a forgotten story
Relevance in society
Originality and innovative ideas, research methods
Feasability
Experience of the applicants, references
Saleability, newsworthiness
Work effort requirement
Cross-border research, cross-border stories
Networking between colleagues in different countries, pooling research
Being a watchdog of EU institutions, policies, money
Application and Deadlines
The next upcoming deadlines for cross-border grants until the end of 2018 are:
Thursday February 15, 2018
Tuesday May 1, 2018
Monday October 1, 2018
Thursday November 15, 2018
Always at 11.59 pm Brussels time.
To apply for a grant, you need to fill in the online application form. Other formats of applications such as e-mails or letters are not accepted.
For more information, visit European Cross-border Research Grant.