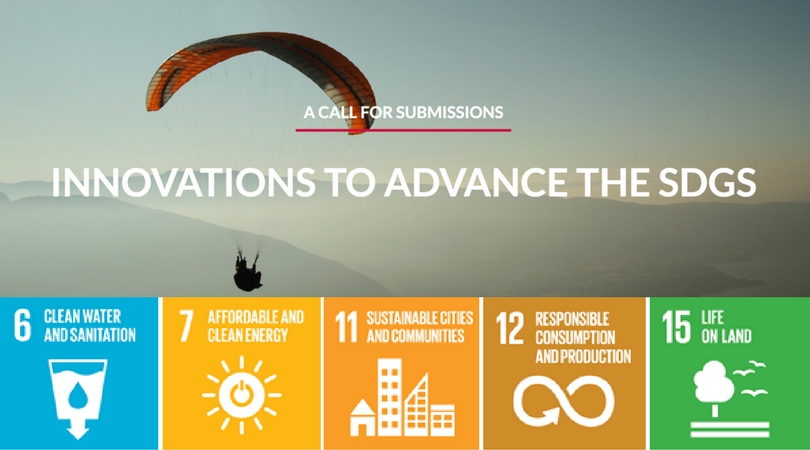 STI Forum 2018 Call for Innovations for the SDGs (Opportunity to present at the UN Headquarters in New York)
Deadline: April 4, 2018
The Call for Innovations for the SDGs is now open. Do you have an innovative solution to achieve the SDGs? Then share it with the UN and Global Innovation Exchange and get a chance to present it at UN Headquarters! The Call seeks concrete scientific and technological innovations to achieve the five SDGs that are the focus of the third multi-stakeholder Forum on Science, Technology and Innovation for the SDGs (STI Forum) in 2018.
The SDGs are designed to be transformative, and change the way in which we develop our world.  Innovation and technology are key to implementing the SDGs, and essential to the ambition of achieving the SDGs by 2030.
This year the focus of the STI Forum will be on the following five SDGs:
Goal 6. Ensure availability and sustainable management of water and sanitation for all
Goal 7. Ensure access to affordable, reliable, sustainable and modern energy for all
Goal 11. Make cities and human settlements inclusive, safe, resilient and sustainable
Goal 12. Ensure sustainable consumption and production patterns
Goal 15. Protect, restore and promote sustainable use of terrestrial ecosystems, sustainably manage forests, combat desertification, and halt and reverse land degradation and halt biodiversity loss
The United Nations and its partners will continue to share and promote the SDG innovations with those working to achieve the SDGs. Science, technology, and innovation are keys to successfully achieving the SDGs by 2030. They encourage NGOs, governments, non-profit organizations and other organizations to test, use, and scale up successful innovations that can help achieve the SDGs.
Global Innovation Exchange (GIE) is a tech platform that aims to accelerate innovation in developing countries, using its ever-growing database of innovations and funding to reveal curated content and industry insights for innovative social entrepreneurs, the funders who fund them and other development professionals.
Benefits
Following the Call for Innovations, a group of eminent experts will select key examples of innovative solutions.  Subject to availability of funding, representatives of the selected innovations will be invited to participate in the STI Forum 2018, and exhibit their innovations at the United Nations Headquarters in New York on 5 and 6 June 2018.
Innovations submitted to the Call will be publicly featured in GIE's searchable database of over 5,000 innovations, used by press, donors, funders and investors, and can access a comprehensive list of all available innovation funding opportunities across development (cumulative USD 250+ million).
Eligibility
All innovations that are working to achieve these SDGs are welcome, and will be reviewed carefully.
They also welcome innovations based on traditional knowledge or helping to ensure that no one is left behind.
Application
Show them your creativity, entrepreneurship and drive to promote sustainable development by submitting your innovation.
Create or login to an account on the Global Innovation Exchange.
Add or spruce up the relevant innovation profile.
To officially submit your innovation for consideration, add a milestone for "Recognition" for "STI Forum 2018″ as the Program and "Applicant" as the Title.
If your innovation already exists on GIE, you only need to complete the last step. You can continue to edit your innovation profile until April 4, 2018. Please visit the FAQ for additional information about submitting your innovation profile.
For more information, visit STI Solution for SDGs.