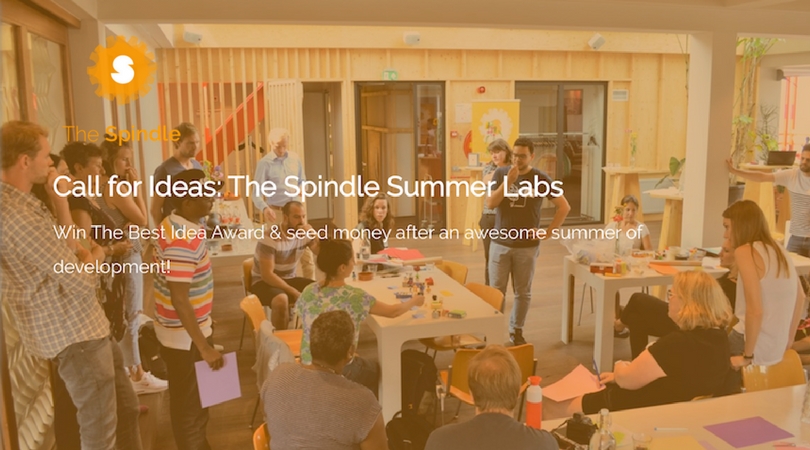 The Spindle Summer Labs Innovation Award for Best Idea 2018 (€5000 seed money)
Deadline: May 31, 2018
The Spindle invites you to join the Summer Labs Innovation Award for Best Idea 2018 The Summer Labs accelerate your idea around development cooperation into a pilot proposition with or within a (Dutch) NGO that you could start the next day. Send in your idea and win The Spindle Innovation Award for Best Idea 2018 on October 11th + €5000 seed money!
The Spindle connects innovators among Dutch and global actors into an on- and offline movement for inclusive, sustainable development. Do you have an innovative idea that contributes to an inclusive, just and sustainable world? They welcome you to apply for 'Best Idea 2018'.
Benefits
The ten best ideas join 'The Spindle Summer Labs accelerator' and the overall winner receives €5000 seed money!
What they offer:
Ready-to-go pilot proposition – Through actively engaging in a creative programme you can accelerate your idea in one summer into a ready-to-go pilot proposition.
Intense coaching – Besides sharing innovation insights and knowledge, the experienced team of facilitators provide creative support and personal coaching.
Access to donors and constructing a fundraising strategy – You create a funding plan for your pilot and get the chance to present it to potential donors and our jury.
Our expert network and new connections – You can access and make use of The Spindle's network of 100+ NGOs and experts from a variety of backgrounds. Hook on to them and the needed expertise for your idea.
Personal and team development – While working with your team on your idea, you will gain new skills and insights on Human Centred Design and developing new concepts.
A chance to win The Spindle Award for Best Idea 2018 – At the end of the summer, all teams present their idea to the jury. The three most promising ideas get the chance to pitch at the Partos Innovation Festival on October 11 and win The Spindle Award for Best Idea, €5000, €2500 or €1000 seed money!
Eligibility
Open to ideas from all over the world
They are looking for solutions that tackle a specific problem related to one of our four themes.

Civic Power
New Ways of Working together
Making Data Count
Leave No One Behind

An idea for The Spindle Summer Labs could be a lot of things: a new project or programme, a policy that lets NGOs do their work more effectively, an application that brings together data or people, or a new process that facilitates support staff. It could be a service in disaster areas, a product that empowers people that are in some way excluded, or even a new approach to a political or scientific discussion.
Your idea does not have to disrupt and change the whole world, but they ask for you to be dedicated towards the solution of a problem within the context of development, either in the field or within the context of an NGO.
While selecting the 10 best ideas of 2018, the jury will focus on the following criteria:
Relevance to one or more of The Spindle themes
 A clear problem: the idea contributes to a clear problem or need in the world of development cooperation and NGOs.
Originality: How original is your idea? Does your idea provide a distinctive, new solution to development cooperation?
Impact: How big is the impact you can create with your idea?
Sustainability: how (financially) sustainable is your idea? If it isn't sustainable yet, we will explore potential ways of future sustainability.
Scalability: How and to which extent can we scale it up?
Appeal: Can you make people enthusiastic about your idea?
Team: You don't necessarily need to have the perfect team in place, but is your team committed? How are you connected to organisations that can bring your idea further? Do you have solid knowledge and experience in the context of the idea? And are you open to new approaches and new collaborations?
Have you already executed a pilot and has your idea, therefore, passed the idea stage? Then they would like to know about your initiative as well! You can apply for Best Idea now, but if you have already passed the idea stage you can submit your innovation to compete for 'Best Innovation 2018'!
Application
Are you interested to participate in The Spindle Summer Labs? Participation in the Summer Labs is free of charge.
Make sure you take a look at the selection process, the selection criteria and the terms and conditions of The Spindle Summer Labs. If you need any assistance or have any doubts, please contact us through [email protected].
Complete the online application.
For more information, visit Spindle Summer Labs.