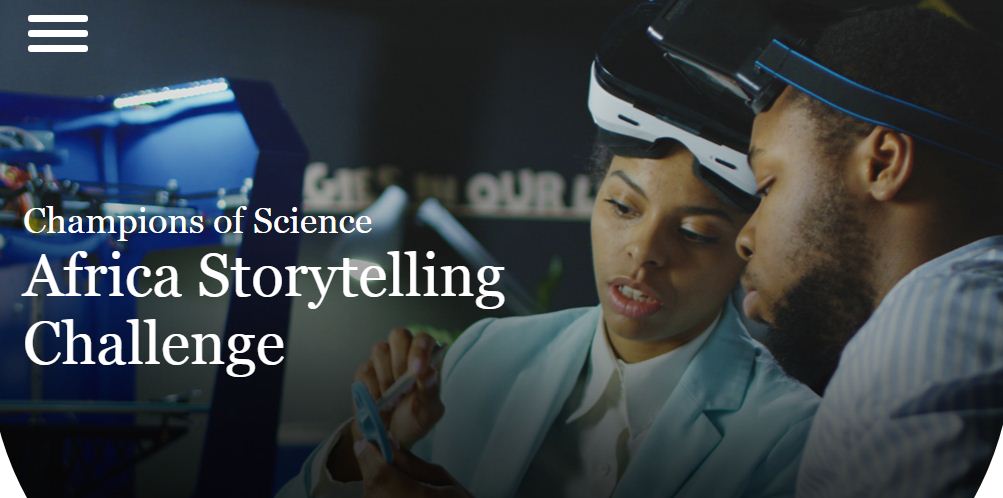 Johnson & Johnson Champions of Science Africa Storytelling Challenge 2018 ($5,000 USD prize)
Deadline: September 1, 2018
Are you a scientist or innovator doing research in Africa with the goal of making a positive impact on society? Share your journey of scientific research and innovation in the Johnson & Johnson Champions of Science Africa Storytelling Challenge 2018.
A tremendous amount of scientific innovation is taking place across Africa, with many researchers and entrepreneurs developing new solutions to make a positive impact in their own communities, and around the world. But their achievements often remain unrecognized.
Through the "Champions of Science – Africa Storytelling Challenge", all scientists doing innovative and impactful work in Africa are invited to come forward and share their stories! By showcasing the contributions of the talented and passionate scientists and innovators in Africa, Johnson & Johnson Innovation aims to build public engagement and support for science, and inspire the next generation to pursue scientific fields that will have the potential to drive Africa's socio-economic transformation.
Benefits
$5,000 USD prize;
Publication of your story in the Johnson & Johnson Innovation "Champions of Science" compendium (electronic and print);
Broad recognition as a Champion of Science through publicity and social media channels;
Invitation to serve as a "Champion of Science" ambassador at local or regional scientific/science policy meetings, as opportunities arise.
Eligibility
Any scientist or innovator, affiliated with a higher-education institution, research institution, government, private company, NGO or an innovation hub doing research in any scientific field in Africa with the goal of making a positive impact on society is encouraged to participate;
The Applicant must be authorized, by their affiliated institution to represent the science being profiled and to accept the award;
The Applicant must be a citizen or permanent resident in a country in Africa.
Entry Format and Requirements
Entries can be submitted in either of the following formats:
A written story (500-1,000 words)
A 3-5 minute video in English. This does not need to be professionally produced and can be filmed on your smart phone.

Please click here for important video guidelines and tips!

A picture is worth 1,000 words: They encourage you to submit photos of yourself, your team and any other images that will help tell your story in addition to your written or video submission.

Photo submission is not required but highly encouraged.
Accepted file formats: PDF (.pdf), MS Word (.doc), MS Word (.docx), .avi, .mp4, .png, .jpg, .jpeg, Youtube and Vimeo links
Whichever format you choose to tell your story in, be sure to address the following topics in your response:
What are you working on & why is it important? How will your work impact people/society?
Who inspires you and/or what motivates you?
Why do you think it is important to tell stories of science?
In addition, all applications must include a written description of the scientific research or innovation involved.
Evaluation Criteria
An independent selection committee will evaluate submissions based on their ability to meet the following criteria:
Quality of the science/innovation (33%)

Progress thus far/potential impact
Team working on the idea

Quality of the story (33%)

How well is the idea communicated?
How engaging is the presenter?
How well is the potential impact communicated?

Potential impact on society/ability to scale (33%)

How many people are facing the problem/affected by the issue that the science addresses?
How many people could the solution reach?
Application
For more information, visit Champions of Science Africa Storytelling Challenge 2018.