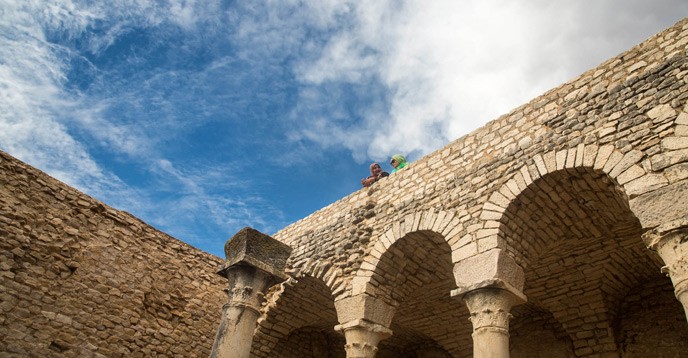 UNESCO Regional Training on Cultural Heritage Representations 2018 for the Arab region (Fully-funded to Tunisia)
Deadline: September 10, 2018
Applications are open for the UNESCO Regional Training on Cultural Heritage Representations. Under the framework of The Networks of Mediterranean Youth Project – NET-MED Youth (2014-2018) and as part of UNESCO's and the EU's commitment to engaging youth in safeguarding their cultural heritage and promoting inclusive cultural policies, UNESCO and partners launch a Call for Applications targeting youth organizations engaged in the protection of cultural heritage in the Arab region.
The training brings together experts and representatives of CSOs engaged in cultural heritage safeguarding, this regional workshop will highlight the potential of cutting-edge technologies for cultural heritage protection. It aims at:
Equipping selected youth organizations committed to and engaged in cultural heritage protection and 

promotion with new skills, knowledge and approaches to represent, document and make endangered cultural heritage more visible

Giving unique opportunities to partner youth organizations to upgrade their work in this field, by highlighting opportunities offered by virtual environments

Sharing and analyzing successful experiences from the Arab region and beyond using the most advanced technologies (augmented reality

, virtual experiences, 3D simulation, gaming) to document and raise awareness of cultural heritage among youth, through mixed educative and training techniques

Strengthen networking and mutualize resources between creative young entrepreneurs and youth organizations for the promotion of heritage as a fundamental prerequisite of democracy, a pillar of freedom of expression, and an essential element for the wellbeing of societies.
Structure
This two-day regional training will be organized as follows:
The first day will be dedicated to up-to-date theoretical and critical perspectives related to the values of new technologies to cultural heritage representation and promotion. It will also offer an overview on creative youth-led initiatives in this field.
The second day will focus on the concrete transfer of knowledge as well as to practical experiments applying digital technologies in several areas related to cultural heritage (repair, education, protection, promotion, mediation, etc.). This will cover the following technologies:

Augmented Reality, Mixed Reality, 3D Scanning and panorama, 

QR codes Gamification, Citizens-generated contents, etc. The second day should also serve as a coaching to participants with a view to upgrade their work and platforms.
The workshop will benefit from the insights of renowned experts, professionals and researchers working on cultural heritage representation, youth mobilization and youth-led art mediation. It will also benefit from the expertise of the Virtual Experience Company, which has been developing 3D and Virtual Reality experiences in the cultural heritage sector during the past several years.
Benefits
The event will take place in Tunisia in November 22-24, 2018.
Air-tickets, accommodation and meals will be covered by UNESCO.
Eligibility
The workshop will target 30 participants.
Open to 

youth organizations engaged in the protection of c

ultural heritage in the Arab region.

Priority will be given to representatives of youth networks and organizations from southern Mediterranean countries and already committed to the documentation of cultural heritage.
Experts, artists, researchers and culture professionals are also eligible.
Half of the participants will be young women.
Application
Interested candidates shall write to [email protected] (link sends e-mail) before 10 September 2018 COB and join a detailed CV (outlining relevant prior experiences related to cultural heritage mediation and representation) as well as a cover letter.
For more information, visit UNESCO Regional Training.