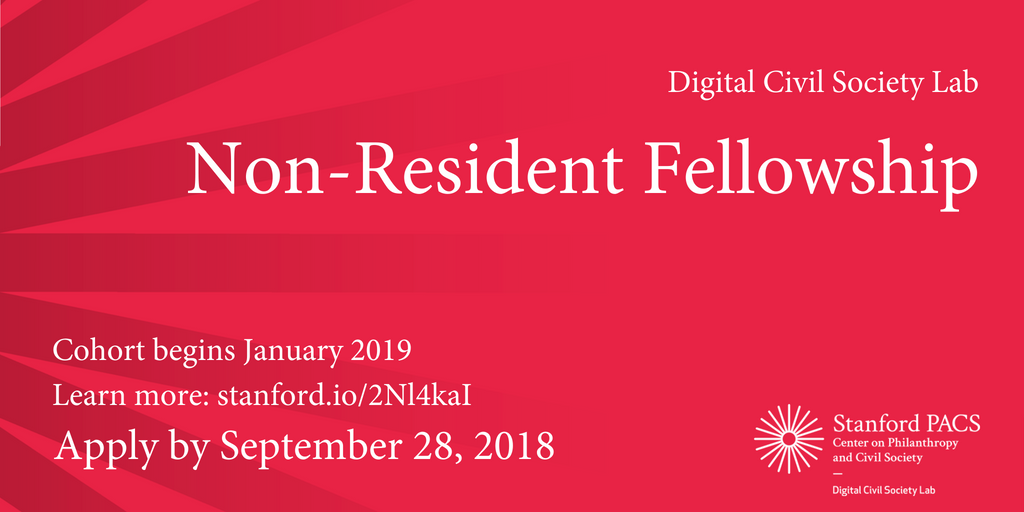 Digital Civil Society Lab Non-Resident Fellowship 2018/19 for Social Sector Leaders (Funded to Stanford + $20,000 stipend)
Deadline: September 28, 2018
Applications are open for Digital Civil Society Lab's Non-Resident Fellowship. The Non-Resident Fellowship supports social sector leaders to dedicate some of their time working on ideas that apply to broad swaths of civil society. It allows working people to dedicate a portion of their time to advancing an idea or project that doesn't quite fit into their "day job."
The goal is to provide enough time, space, expertise, and financial support to help turn ideas into prototypes or action. Fellows will be selected to receive a stipend, travel support, and additional support and guidance as they undertake a yearlong project in one or more of four areas.
Areas
Fellowship projects should be designed to:
address a challenge of safe, ethical, and effective digital data governance or practice that is common to nonprofits and civic associations globally
produce a prototype, draft or complete product in one year
benefit from access to scholarship and researchers
have a plausible plan for post-fellowship implementation and support
Benefits
Fellows will receive:
A weeklong in-person convening of the cohort on the Stanford campus in January 2019.
Access to the Digital Civil Society Lab's network of partners.
Mentorship from Lab directors and access to Fellowship alumni from previous cohorts.
For the 2019 Fellowship year, they are recruiting a cohort of three to five fellows. Within this cohort, they are recruiting one fellow to work specifically on a project designed by the Lab to focus on digital policy issues and civil society infrastructure. They refer to this as the "Policy Fellow". All other applicants are responsible for designing, proposing, and implementing projects of their choice.
Eligibility
The Non-Resident Fellowship at the Digital Civil Society Lab is open to applicants 18 years of age or older who meet the following conditions:
Meet all submission deadlines and submit the application in English;
Commit to spend twelve months undertaking a project addressing one or more of the Four Codes of Digital Civil Society outlined above;
Commit to contribute a final written report, video or audio interview, and at least two submissions to the Lab's public-facing content channels including the 
Commit to attend a week-long convening of the fellowship cohort at Stanford University in January 2019; This week involves an introduction to the Lab and its research goals and activities, opportunities to meet other communities on campus, independent time to interact with scholars and research institutes on campus and in the area, and the development of individual year-long work plans. Fellows are encouraged to engage with and imagine/identify additional collective activities for their cohort.
Your initiative can not involve a political campaign or legislative lobbying efforts.
Selection Criteria
The selection process will take into consideration the following criteria:
Potential impact
Does the project address a question or challenge that is broadly relevant across civil society?
Will the project contribute significant new knowledge or create substantial positive change?
Does the Fellow demonstrate a deep understanding of the issue their project addresses?
Will the Fellow and the project benefit from engagement with an academic research community?
Quality of project proposal
Have potential risks and challenges received adequate consideration?
Are goals, timelines, and deliverables realistic?
Has the applicant identified potential partnerships that will catalyze the project?
Application
During the application process you will be asked to submit:
cover letter
resume or CV
project summary (maximum of approximately 200 words) and brief proposal (maximum of approximately 1000 words)
names and email addresses of two references
Interested applicants should complete the online application during the application window. 
For more information, visit Digital Civil Society Lab.