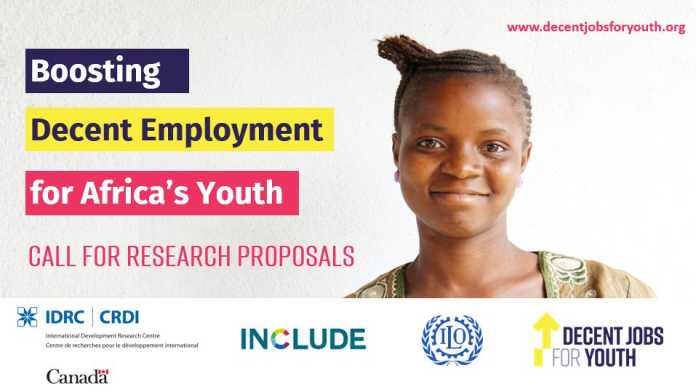 International Development Research Centre (IDRC) Grant Program 2019-2020 (up to $500,000 CAD)
Deadline: October 8, 2018
Applications are invited for the International Development Research Centre (IDRC) Grant Program 2019-2020. This call seeks concept notes for action-oriented research aimed at informing the design of effective and innovative interventions that boost decent employment for Africa's youth.
Nested within the Global Initiative on Decent Jobs for Youth, this call is part of a series planned for the next two years to help governments, civil society, and private sector actors design effective and innovative interventions that boost economic opportunities for youth in sub-Saharan Africa.
This initiative will support cutting-edge research projects that address either one of the following priority research themes:
Soft skills and digital jobs for youth; and
Effective approaches to foster work-based learning programs and mentorship.
Grant
The total budget per project should not exceed $500,000 CAD
Eligibility
An institution or a consortium of institutions that have a strong presence in sub-Saharan Africa, and with the following qualifications are invited to submit a concept note:
Type of organization: Proposed research can be carried out by a research institution, research consortia or an NGO/implementing partner with strong research capacity. Donors, UN entities, multilateral organizations and independent research teams are not eligible to apply for this call;
Collaboration: Research consortia not based in sub-Saharan Africa should have a demonstrable South-South or North-South collaboration, whichever the case may be. Priority will be given to consortia with a Southern institution lead. Partnerships between research organizations or consortia and implementing agencies are strongly encouraged;
Countries of research focus: Proposed research must be carried out in one or more countries in sub-Saharan Africa. Priority will be given to those with a focus on low-income countries.
Application
Applications should contain the following:
A completed Concept Note, to be submitted using the online application form;
One (1) sample of work to demonstrate capacity to carry out rigorous research on the proposed topic, including capacity to integrate gender based analysis;
An estimated budget, with a cost breakdown for different budget categories;
CVs of research team (each CV should not exceed 2 pages).
For more information, visit IDRC Grant.