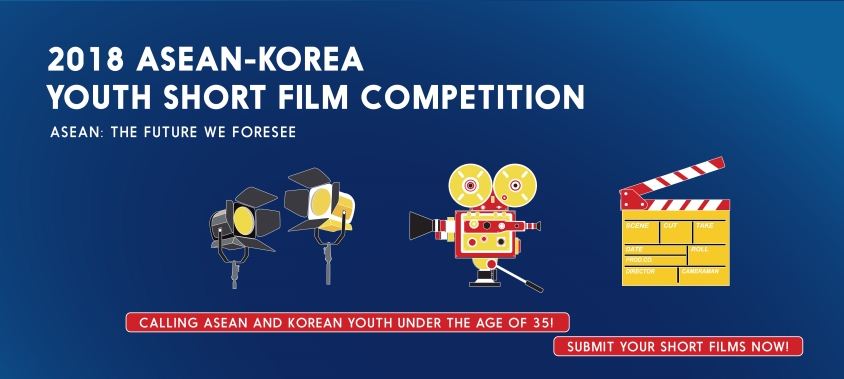 ASEAN-Korea Youth Short Film Competition 2018 (up to $6,400 in prizes)
Deadline: October 6, 2018
Have you ever imagined what the future of ASEAN would be like? Submit your short films now for the 2018 ASEAN-Korea Youth Short Film Competition!
Like every year, the ASEAN-Korea Centre is inviting ASEAN and Korean youth under the age of 35 to submit short videos for the ASEAN-Korea Youth Short Film Competition. The theme of this year's competition is The Future We Foresee.
The ASEAN-Korea Centre is an intergovernmental organization mandated to promote economic and socio-cultural cooperation between the ASEAN Member States and Korea.
Prizes
Grand Prix: $2,000 or trip to ASEAN/Korea and certificate;
Gold Film Award: $1,500 and certificate;
Silver Film Award: $1,000 and certificate;
Bronze Film Awards (2 films): $700 and certificate;
People's Choice Award: $500
Eligibility
Language: English is the main language. Languages in ASEAN and Korea may be used but English subtitles must be provided.
Film Eligibility

Genre: Any
Length: Around 5-8 minutes
Resolution: 1280 x 720 (720p, 16:9 aspect ratio) or 1920×1080 (1080p, 16 x 9 aspect ratio)
Sound: must be greater than 128 bit
Format: MP4
Films publicly screened anywhere will not be accepted.
Films made before November 2017 will not be accepted.
Setting of the film must be in ASEAN or Korea.
Films must be appropriate for all ages.
Securing the copyrights of any material used in the film is the sole responsibility of the participants.
If joining as a team, there should be at least 1 member from ASEAN or Korea.
Application
For more information, visit ASEAN-Korea Youth Short Film Competition.