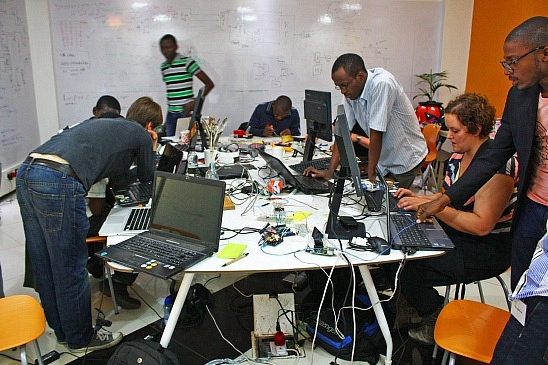 TWIGA Hackathon for Environmental Sensors and IoT for Climate Services 2018 in Kumasi, Ghana (up to €3,000 prize)
Deadline: September 30, 2018
Applications are open for the TWIGA Hackathon for Environmental Sensors and IoT for Climate Services 2018. To foster involvement by young scientists and entrepreneurs, TWIGA will organize five hackathons; three on development of geo-services at Strathmore (Kenya), TU Delft (Netherlands) and SAWS (South Africa), and two on sensor development at KNUST (Ghana) and TU Delft (Netherlands).
Because the hackathon will be partly funded by TWIGA, there has to be a realistic outlook towards a service. Therefore the objective of the hackathon in Kumasi will be to develop a viable product (environmental sensor and/or service) in 5 days in line with the TWIGA products and services. At the moment the products and services being considered some of which have been tested by TWIGA partners are in the Agriculture, Water, Energy, Disaster Response and Management and Insurance sectors.
Cost
Accommodation (full board) will be provided if needed. Tickets for public transport to and from the venue will be reimbursed against receipts. Each team member will be required to present a national Identification card (e.g. Driving License, Passport, and Voters (ID) and National Health Insurance Card or other forms of health Insurance.
Prizes
There are prizes of €1500, €1000, and €500 for first, second and third place winners respectively;
These three finalists will be supported to take their ideas from conceptualization to full prototype ready to be tested on the market within 2 years. The intellectual property rights of the winning prototypes developed during the course of the 5 days Hackathon will be shared between the developers and the TWIGA project.
Eligibility
Open to only teams from Ghana;
The teams could be formed by individual persons, students, start-ups, companies, NGOs or government organizations;
Teams should have expertise in software and hardware development. All teams need to be physically present during the 5-day Hackathon in Kumasi;
At least one team member should have a University degree in the field of Engineering, Computer Science, Physics or related field with at least one (1) year experience with hardware/software development;
Start-ups that provided letters of support for the TWIGA project proposal are highly encouraged to apply as well as teams with women.
Evaluation Criteria
The main evaluation criteria will be the innovation and technology readiness level of the proposed product.
Application
All interested teams should send their application (2 –page concept note, and the resume or CV of all proposed team members) on the environmental sensor(s) and/or IoT for climate service they intend to develop to [email protected] with the words [TWIGA Hackathon in Kumasi] in the subject line of the email.
For more information, visit Hackathon for Environmental Sensors (Hardware) and IoT for Climate Services.