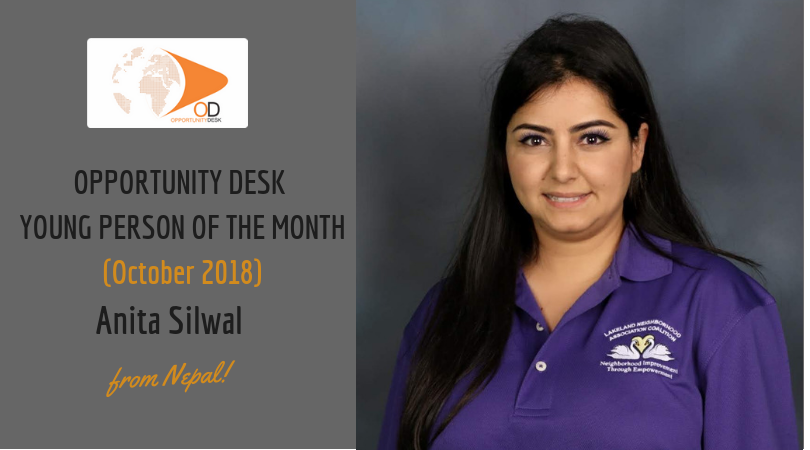 Anita Silwal from Nepal is OD Young Person of the Month for October 2018!
Welcome to October!
Our Young Person of the Month is Anita Silwal from Nepal! Anita Silwal is the founder of Welcome Womanhood, a non-profit in the State of Florida which helps girls to access feminine hygiene products. She is also an award winning actress and a journalist and she has done hundreds of interviews with high level dignitaries. She was the country lead at Habitat for Humanity Asia Pacific Campaign Youth Build. Under her leadership, they were able to mobilize 500,000+ youth for housing awareness. Anita is also a women's health rights advocate and she is a member of Central Youth Working Committee at Family Planning. She holds an MA in sociology.
Read her story below and be inspired!
ANITA SILWAL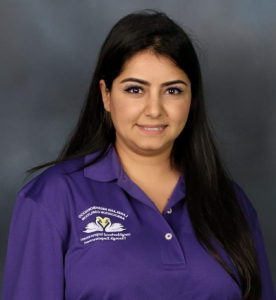 Anita Silwal is the founder of Welcome Womanhood, where she is working towards female empowerment in Florida and Nepal. She is also an actress, a journalist and the co-founder of Success Media, an initiative which develops leadership, public speaking and communication skills in young boys and girls. Ms Silwal began her acting career at a tender age of four. By the age of ten, Anita Silwal had earned a starring actor credit for four super hit feature movies. She was awarded by the prime minister for her acting.
Due to continuing unrest in Nepal, the country was more in need of unbiased journalism and she opted for it. She joined a national news channel, News 24 as a Presenter, Talk Show Host and Producer. Her talk shows which addressed the political, social and development issues after the unrest were very popular. Her program helped people to raise awareness on federalism and other constitutionalism elements. With a vision of being a voice to the voiceless, Anita Silwal has conducted dozens of interviews with diplomats, UN officials, high-ranking politicians and government officials.
Ms Silwal was the winner of coveted crowns, Little Lady Nepal (1999) and Miss Teen Nepal- Runners Up (2007). Ms. Silwal served at Habitat for Humanity and led the Asia Pacific Regional Campaign where she mobilized more than half a million people, and appointed celebrities to raise awareness. As a result, they were able to reach a million people. Presently, Anita serves in the City of Lakeland Florida where she organizes, develops and implement programs and services to assist in actively responding to neighborhood issues.
Her Community Engagements 
Her non-profit, Welcome Womanhood began in early 2016 as a very simple idea, helping girls to access feminine hygiene products, and it took a full fledge shape as a non-profit last year. They visit schools and launch awareness classes. They have partnered with Engineers without borders at University of Florida, Girls Scout, Alachua, FL and others to provide girls with sanitary kits.
Welcome Womanhood recently introduced the Ambassador program along with academic mentoring, scholarships and outreach events. They have also began a talk series with community change makers, who are the real heroes of the communities to inspire girls.
Having witnessed that even in the event of poverty, there are talented girls just waiting for a chance: some lacking basic elements in life, some not having an opportunity to go to school and, yet others neither having someone to encourage them nor a platform to speak or write; Anita believes everyone deserves a good life and whenever she can support or encourage a single girl to create a difference, she must do it.
In future, they aim to reach out to the rural communities across the world, especially in places where girls do not have access to proper feminine hygiene, reaching out to those who are not able to attend schools and to those who are ready to be future leaders but lack platforms to write and speak.
Her Words of Advice to the Youth
 In Asia especially, we are brought up with unconventional teaching "What will the society say, if I do this or that?" Never ever let the so called society's judgement cloud your self-confidence and courage to achieve what you have dreamt of. If you believe in yourself and know where you are going, you don't have to bother what society thinks or talks about you.

Always set a goal and have a Plan B. Even your excellent idea might fail for unprecedented reasons. Always have something to fall on back if plan doesn't work. Be resilient in the face of failure. You might break down, and it's okay if you fall down and lose your spark. But, make sure when you get up back rise like a phoenix.
You can connect with Anita Silwal on Facebook! Instagram! and LinkedIn!
Learn more about her non-profit, Welcome Womanhood
——————————————————————————————————————————
Who will be the Next Young Person of the Month?
You can be the next Opportunity Desk Young Person of the Month! All you have to do is get a friend to recommend your work or fill out the nomination form here.  We want to use the platform to recognize and celebrate the efforts of amazing young people around the world. O! And you must be an active Opportunity Desk member, either as a fan, reader or subscriber!
Don't miss any updates in the future.
Join Opportunity Desk on 147k+ Facebook , 21.5k+ Twitter, 5.4k+ Instagram, 69k+ Group or join 46k+ Subscribers via Email below!