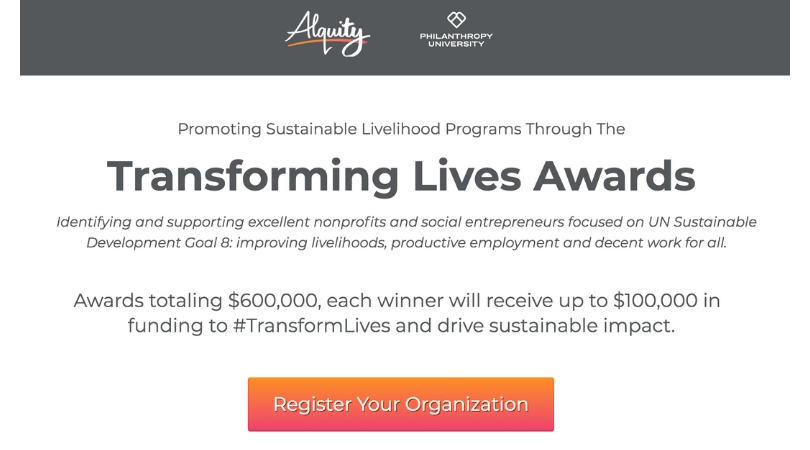 Alquity/Philanthropy University Transforming Lives Awards 2018 (Up to $100,000 in funding)
Deadline: October 31, 2018
The Transforming Lives Awards is open for applications. The awards aim at identifying and supporting excellent nonprofits and social entrepreneurs focused on UN Sustainable Development Goal 8: improving livelihoods, productive employment and decent work for all. Awards totaling $600,000, each winner will receive up to $100,000 in funding to #TransformLives and drive sustainable impact.
Whether you are working on economic empowerment, skills development or creating job opportunities for marginalized groups, Transforming Lives Awards Winners should be focused on achieving UN Sustainable Development Goal 8: to promote sustained, inclusive and sustainable economic growth, full and productive employment and decent work for all.
About
The Transforming Lives Awards are inspired by the Alquity shared values business model which has generated over $1.7m in charitable donations and contributed to transforming thousands of lives across Africa, Asia and Latin America. Driven by the exponential growth of the business, the Transforming Lives Awards reflect the ambition of the firm to become one of the leading social impact businesses in the UK. The Awards are held in partnership with Philanthropy University, as its convenor. Aligned with the mission to resource sustainable development, Philanthropy University provides its online learning platform as a mechanism to reach and bring together like-minded organizations at scale. Alquity has committed an initial $600,000 to fund the awards.
Categories
The Awards will recognize organizations that fit the following categories:
High impact: Nonprofits demonstrating strong practices & results in economic empowerment.
High potential: Nonprofits that demonstrate potential to scale livelihoods-focused programs.
Enterprise: Enterprises with a sustainable approach to address social or environmental challenges.
Awards
Award winners will each receive between US$25K—US$100K in funding.
They will also gain access to a wide network of influential thought leaders and social impact professionals.
Eligibility
Up to 9 organizations will be recognized across Africa, Asia & Latin America fitting these criteria:
Geography: Organizations must be operating in one of the following countries: Egypt, Ghana, Kenya, Morocco, Nigeria, South Africa, China, India, Vietnam, Brazil, Chile, Peru or Mexico. There will be at least one Award in Asia, Africa and Latin America.
Sustainability: A core component of all the Awards will be to fund sustainable and / or scalable solutions.  Award winners will need to demonstrate a pathway to a sustainable funding model, even if their current model requires donor funding.
Programmatic Focus: These awards seeks to support growth in sustainable livelihoods and the achievement of UN Sustainable Development Goal 8: economic growth and decent work for all.
Application
All registered organizations will be invited to complete a pre-application process during the month of October. Invitations will be sent via email.
For more information, visit Transforming Lives Awards.