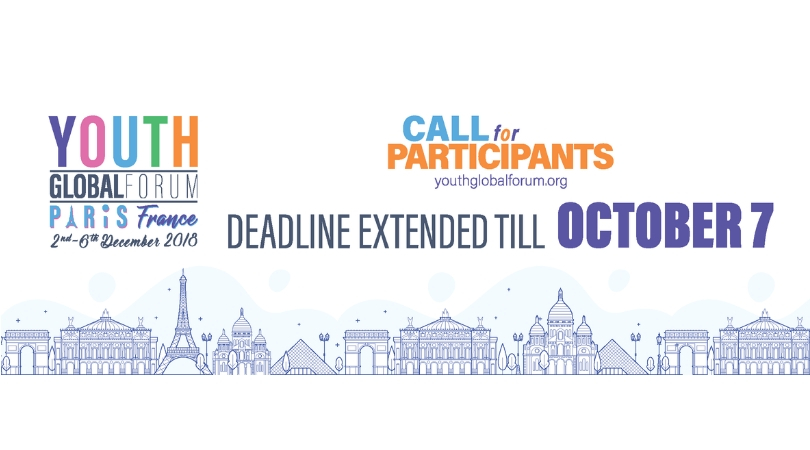 Youth Global Forum in Paris: Call for Participants and Project Presenters (Partially Funded)
Deadline: October 7, 2018
Youth Time International Movement is pleased to open applications for its latest Global Youth Forum 2018! The event will take place in Paris, France from December 2nd -6th and will gather together more than 100 participants, experts and trainers from all over the world with the aim of discussing ideas and solutions to some of the most prevalent youth issues. The topic of the annual event is Worldwide Impact Investment: the Role of Entrepreneurs".
Benefits
Participation is partially funded.
Hotel accommodation, feeding, local transportation, conference materials, site visitations and social/informal activities are covered by Youth Time.
Work on your project proposal with the supervision of an expert (in setting up business initiatives) before the event. [For Project Presenters]
Have the opportunity to present your project to an audience and experts with the chance of being awarded a grant to realize your idea. [For Project Presenters]
Participate in educational and interactive talks and become inspired through workshops conducted by esteemed honorable guests.
Gain valuable new skills, knowledge and experiences that will serve as a solid foundation for your future entrepreneurial endeavors.
Have a fruitful working and learning experience in the beautiful city of Paris.
Have a unique opportunity to meet with 100+ like-minded people from across the globe.
Network with renowned professionals in the fields of business, entrepreneurship, finance, science and technology.
Take part in a fantastic cultural exchange program which includes trips to see some of Paris's' most iconic attractions.
Join each other in celebration at our welcome and closing dinners and attend the projects awarding ceremony.
Eligibility
Young people 20-35 from around the world
Master's/PhD students, social entrepreneurs, young professionals, persons working at/with startup incubators and/or accelerators
Fluent in English (reading, writing, speaking).
You can either apply as a project presenter or a basic participant.
Application
Fill out the Youth Global Forum Participant Application form
Submit your up-to-date CV
Make a one-minute video answering the following questions:

What is your motivation for applying for the Youth Global Forum?
What do you understand by the term "impact investment"?
How do you plan to use the knowledge and skills gained during the Youth Global Forum?

Pay a Participation fee of 300 EUR which will go toward the budget which will support the grant awarded to the 1st place project winner.
Apply as a Project Presenter or Apply as a Participant
For more information, visit Youth Global Forum.