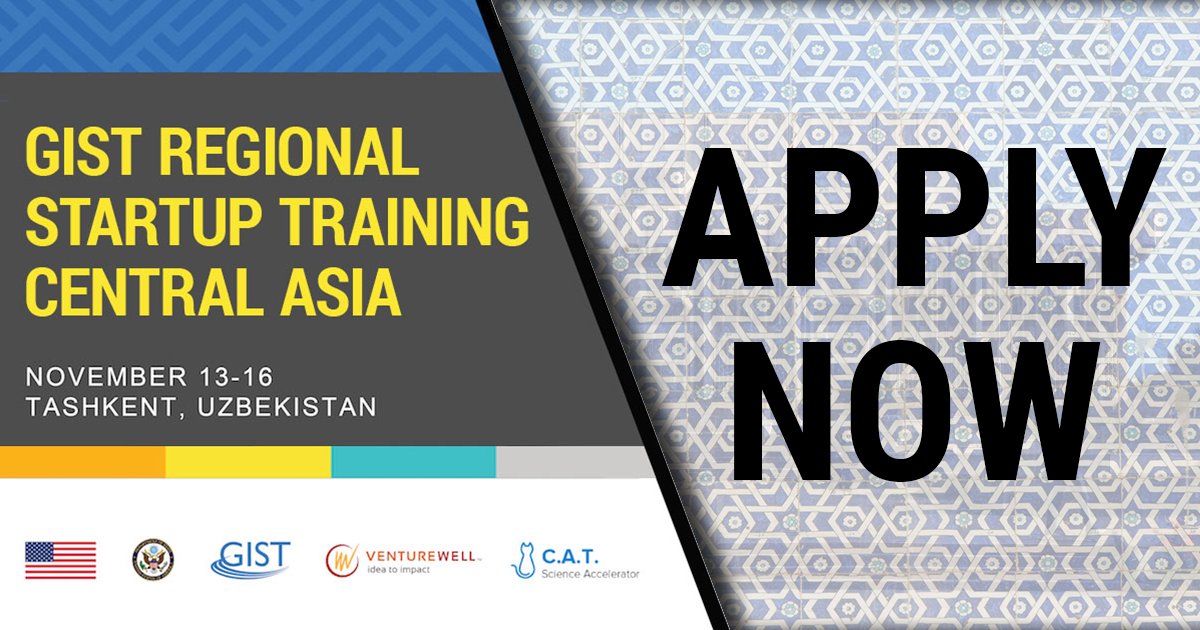 GIST Regional Startup Training in Central Asia 2018 (Funded to Tashkent, Uzbekistan)
Deadline: October 16, 2018
Applications are open for GIST Regional Startup Training in Central Asia. The U.S. Department of State's Global Innovation through Science and Technology (GIST) Initiative is pleased to offer a Startup Training program for science and technology entrepreneurs from Uzbekistan, Turkmenistan, Kazakhstan, Tajikistan and Kyrgyzstan.
This program is designed to empower these young innovators through on-the-ground training and mentoring to build and grow their startups. The program is presented with implementation partner VentureWell and in-country partner C.A.T. Science Accelerator and would take place November 13-16 at Tashkent, Uzbekistan.
Participants will spend four days honing their business ideas, perfecting their pitches, and showcasing their innovations during a Demo Day in front of business leaders, investors, and policymakers from around the region. These entrepreneurs will come away from the program with the skills and tools to develop their business models and grow their ventures.
Selected teams will participate in a program designed to empower them through on-the-ground training and mentorship. Teams will also have a chance to compete for valuable startup resources during a Demo Day – which will include business leaders, investors and policymakers from the region.
Benefits
You've been looking for an opportunity to take your startup to the next level. This regional GIST Startup Training could be that opportunity. All you have to is complete a 10-minute application. It's that easy.
Participants from out of the area will receive support to travel to this startup training.
Eligibility
For this in-country GIST Regional Startup Training, there will be a specific focus on teams that meet the following requirements:
Only teams from Uzbekistan, Turkmenistan, Kazakhstan, Tajikistan or Kyrgyzstan are eligible to apply;
Only two members are allowed for each team;
Both team members must be between the ages of 18 – 40;
The startup or idea must have a focus on science and technology.
Application
Log in to your GIST Network account. If you do not have a GIST Network account, you can create one by following this link.
If you created a GIST Network account for this application, you must first wait for a confirmation email which has been sent to you. Follow the instruction in that email before you proceed to the application.
Once you are logged in, proceed to the GIST Startup Training application by clicking on the "APPLY NOW" button below.
Please fill out every section of the form, before submitting your application. This application will take between 10 and 15 minutes to completed. Each team may only submit one application. We will not accept multiple application from the same team.
For more information, visit GIST Central Asia.