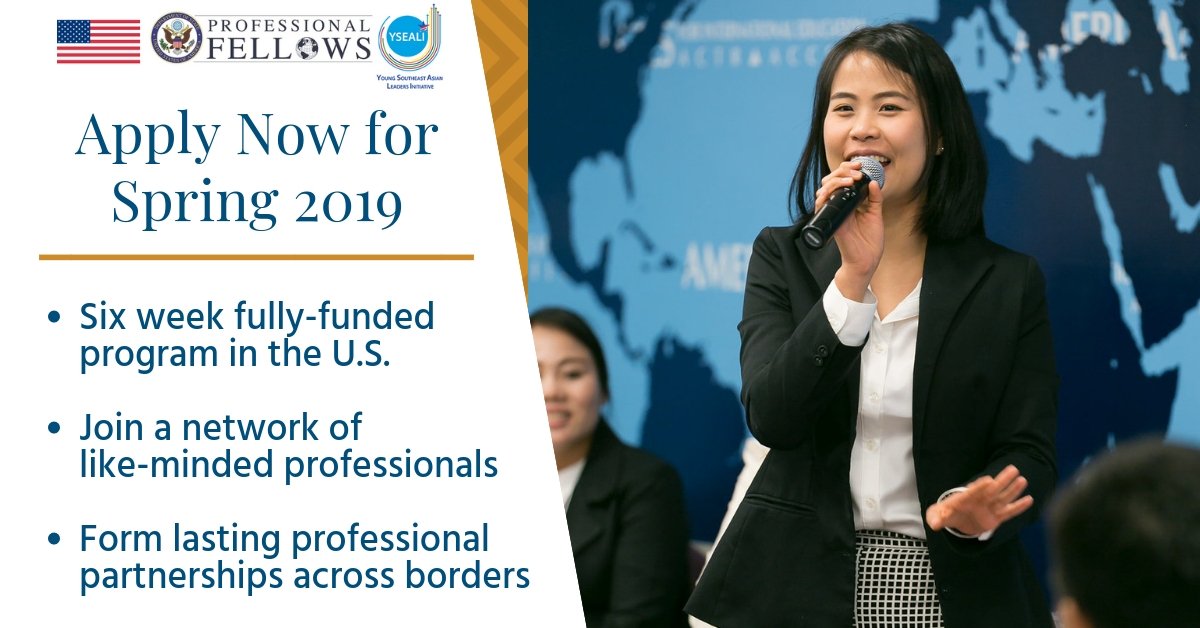 US Department of State's Professional Fellows Program – Spring 2019 (Fully-funded)
Deadline: November 5, 2018
Applications are open for the US Department of State's Professional Fellows Program 2019. The Professional Fellows Program (PFP) is a two-way, global exchange program designed to promote mutual understanding, enhance leadership and professional skills, as well as build lasting, sustainable partnerships between mid-level emerging leaders from foreign countries and the United States.
PFP participants are placed in intensive 5-6 week fellowships in non-profit organizations, private sector businesses, and government offices across the United States for an individually tailored professional development experience. They build a broad network with American and other program participant colleagues as they develop a deeper understanding of U.S. society. The PFP is a two-way exchange, with American participants who have hosted foreign fellows traveling overseas for participant-driven reciprocal programs.
Benefits
Each finalist of the program will:
Work in a full-time fellowship placement in a US worksite dealing with issues relating to his or her work at home. While there fellows will gain first-hand knowledge about US organizations and institutions and build networks and relationships with US counterparts.
Participate in a fully-funded program with comprehensive on program support. Travel and living arrangements will be covered as well as emergency health insurance, and visa fees on program.
Become part of prestigious networks – including YSEALI (for Southeast Asian participants only) and PFP. Alumni will gain access to tremendous resources and an international network of like-minded professionals spanning the globe.
Eligibility
Applicants should be between 25-35 years old;
Be a citizen and current resident of either: Armenia, Azerbaijan, Belarus, Brunei, Burma, Cambodia, Georgia, Indonesia, Laos, Malaysia, Moldova, Philippines, Singapore, Thailand, Turkey, Russia, Ukraine, and Vietnam;

Speak fluent English to work full-time in a US worksite;

Interested in participating in a reciprocal program for Americans coming to your country.
Have at least two years relevant work experience and be currently employed;
Have demonstrated leadership and collaborative skills.
Be a professional fit for the PFP theme that your country participates in

Legislative – Armenia, Azerbaijan, Georgia, Moldova, Turkey, Ukraine
Innovation and Entrepreneurship – Belarus, Russia
Economic Empowerment – Brunei, Burma, Cambodia, Indonesia, Laos, Malaysia, Philippines, Singapore, Thailand, and Vietnam.
Application
For more information, visit PFP.