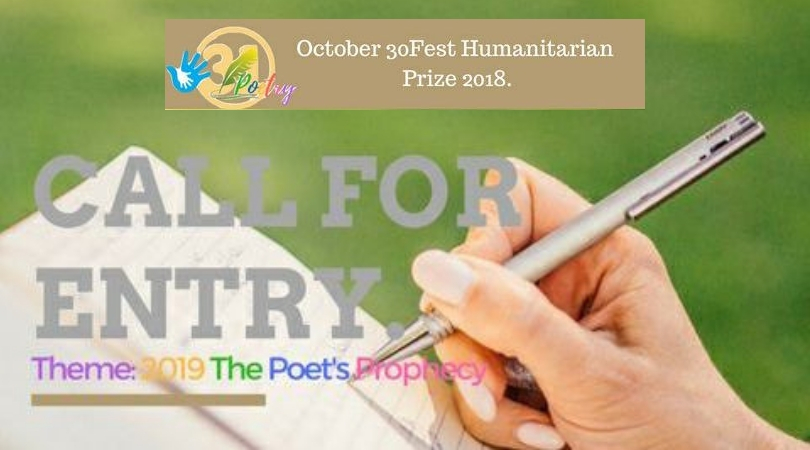 Call for Submissions: October 30Fest Humanitarian Poetry Prize 2018
Deadline: October 20, 2018
The call for the submission of poems for the 3rd edition of the October 30FEST Humanitarian Poetry Prize is now open. This Poetry Prize seeks to sprinkle smiles on the faces of those left out in the scheme of things in the society. The 2019 Theme is The Poet's Prophecy.
October 30Fest Humanitarian Poetry Prize is a poetry competition for poets with a large heart. The winner's Prize is N50,000 that s/he MUST donate to any charity of their choice anywhere in the world. This event was first organized in 2015 as a fun poetic battle between Malawian poets and Nigerian poets to celebrate Mr. Okorn Okorn's birthday.
Prize
The winner will receive a cash prize of N50,000.

Automatic appointment as judge for the next competition round.
The cash prize for winning this competition would be donated to any charity course of the winner's choice as a service to humanity.
Eligibility
This contest is open to poets from all over the world.
Guidelines
Submissions are to be made to http://bit.ly/October30Fest with strict adherence to the instructions stipulated.
After completing submission on the Google form, you are required to post your entry again on the October 30FEST Facebook group for interaction. However, likes are not a criteria for winning.
Entries submitted must be previously unpublished, an entry found to have violated this will be disqualified, even the winner.
Entries must be written in English or translated to English as footnotes
Application
For more information, visit October 30Fest.