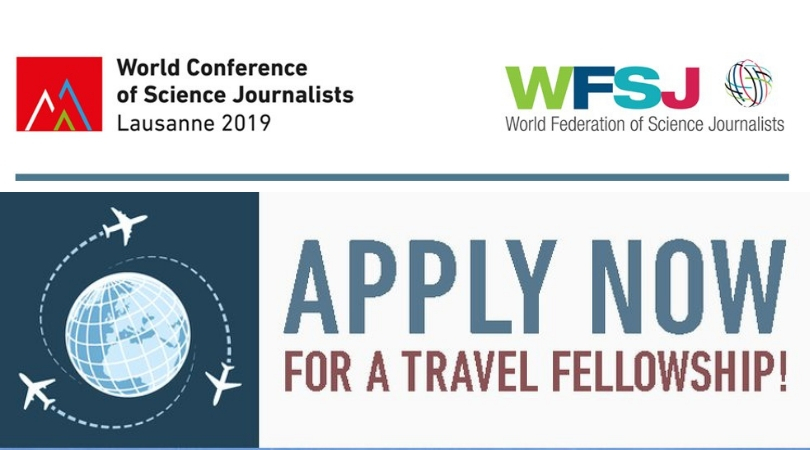 World Conference of Science Journalists (WCSJ) 2019 Travel Fellowships (Funded to Lausanne, Switzerland)
Deadline: November 15, 2018
Applications are open for International Travel Fellowships to the World Conference of Science Journalists (WCSJ) 2019. WCSJ2019 and the WFSJ are delighted to offer International Travel Fellowships for attendees from all around the world. These fellowships are intended to enable those who otherwise could not attend to join us at the World Conference of Science Journalists (WCSJ) in Lausanne, Switzerland (1-5 July 2019).
The strength of our World Conference of Science Journalists (WCSJ) is to enrich science and technology coverage and to bring journalists, writers, and communicators together from all corners of the globe. The goal of the WCSJ2019 Travel Fellowship program is to assist as many attendees as possible and to support the international diversity of the conference by enabling a representation from all regions.
Benefits
The fellowship will cover the following:
air travel (economy airfare will be booked and purchased by WCSJ2019)
local transportation to and from the airport
visa fee
accommodation on site (booked by WCSJ2019. Could be up to 5 nights or even 6 nights if  you agree to share a room with another grantee)
registration fee fot the WCSJ2019
if needed, small per diem (covering some meals not provided by the conference and some small expenses)
In addition to the "conference only" fellowships, a limited number of participants will be awarded fellowships that guarantee seats in pre-conference workshops as well as substantial travel funding. Fellowship applicants can register their interest for these workshops directly in this form the latest by Thursday 15 November at 12 noon EST. If granted with such a fellowship, the grantees will have to attend the workshop fully. Details of these and any additional pre-conference workshops may be announced later. Workshops will require participants to arrive on Sunday 30 June 2019.
Eligibility
Open to anyone who actively writes, edits or produces science news, information or commentary for the independent media, is working as a staff employee or a freelance journalist, or is a member of a WFSJ Member Association, and who normally would be unable to attend the Conference without financial assistance.
Preference will be given to writers attending WCSJ for the first time.
Application
Successful applications will make a clear and convincing case for how attending WCSJ2019 will benefit the applicant. Special consideration will be given to applications submitted from developing countries or regions historically underrepresented at World Conferences.
Applicants will be asked to upload a curriculum vitae, a statement of interest as well as provide the name of a reference whom you will ask to send you a recommendation letter. Before applying, we recommend that future applicants read first through the application information below to prepare materials as requested. Incomplete applications will not be considered.
For more information, visit WCSJ 2019.