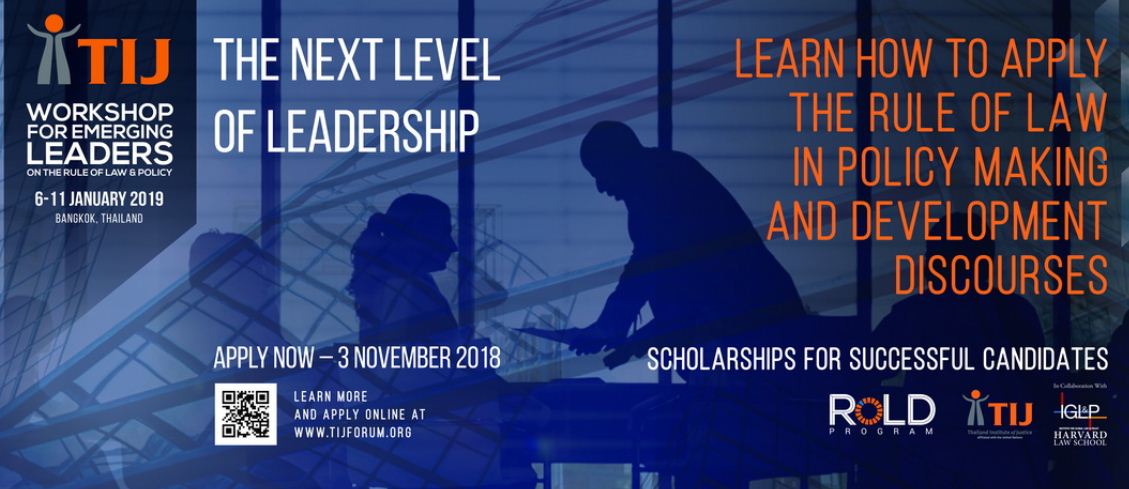 TIJ Workshop for Emerging Leaders on the Rule of Law and Policy 2019 (Funded)
Deadline: November 3, 2018
Applications are open for the TIJ Workshop for Emerging Leaders on the Rule of Law and Policy 2019. The TIJ Workshop offers a unique opportunity for practitioners from different sectors to engage with their global peers in policy dialogue facilitated by a network of international and interdisciplinary faculty from the TIJ and the Institute for Global Law & Policy (IGLP) at Harvard Law School.
This intensive week, designed exclusively for young and successful professionals, will unlock the complex and dynamic linkages between the rule of law and policy making processes in the economic, political and social development at local, regional and international levels.
The curriculum has been customized to ensure that participants benefit from peer-to-peer learning in order to strengthen their knowledge and skills for addressing the most pressing policy challenges in today's global environment. Through peer-to-peer collaboration, intensive mentoring and cross-training, the Workshop aims to strengthen the next generation of policy leaders as they develop innovative ideas and alternative approaches to issues of global law, economic policy, social justice and governance. The program runs from January -11, 2019 in Bangkok, Thailand.
Cost
The TIJ will sponsor meals, single-occupancy accommodation, round-trip transportation, air transfers and course materials for all admitted participants;
Round-trip airfares will be reimbursed up to USD 1,000;
Admitted participants who require a visa to enter Thailand are responsible for their own visa application and applicable fees. The TIJ will issue a visa support letter upon request.
Eligibility
Open to young and successful professionals from diverse fields of work including government, social entrepreneurship, businesses, and civil society organizations, among others, who are
inspired to learn about the Rule of Law and its connection to their field of work
determined to make a change in the policy making process
ready to cultivate the network established at the Workshop in support of their roles as agents of change in society
Application
For more information, visit TIJ Workshop.