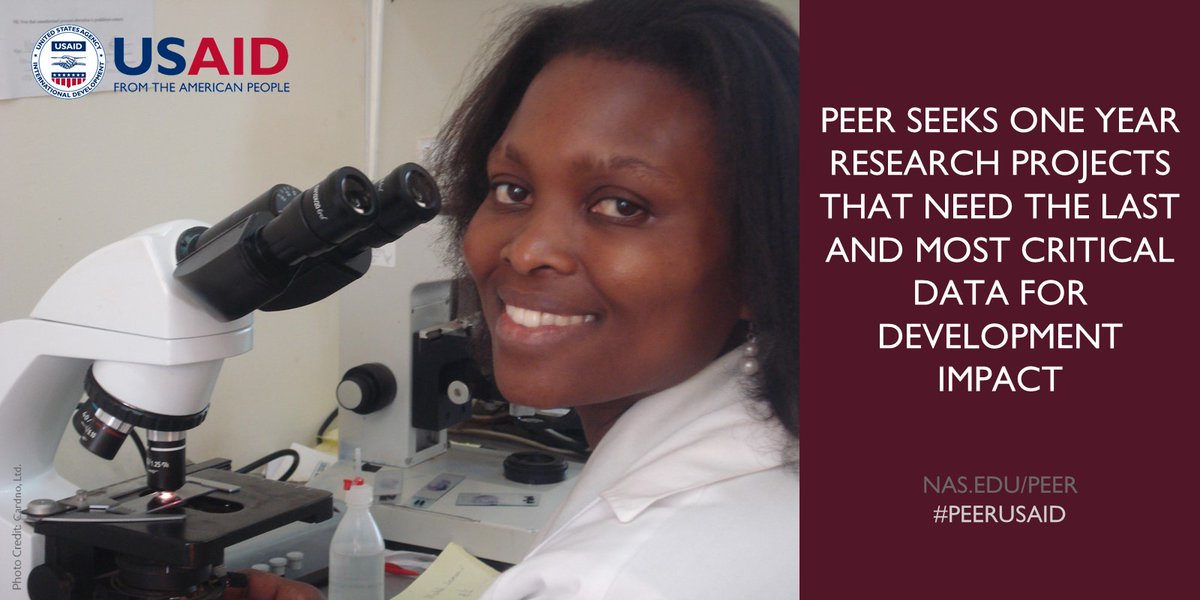 Call for Pre-proposals: USAID PEER Program Cycle 8 for Scientists in Developing Countries (Up to $80,000)
Deadline: January 14, 2019. 
PEER is currently accepting pre-proposal applications for Cycle 8. The Partnerships for Enhanced Engagement in Research (PEER) program is a competitive awards program that invites scientists in developing countries to apply for funds to support research and capacity-building activities on topics of importance to USAID and conducted in partnership with U.S. Government (USG)-supported and selected private sector partners.
The program is supported by the United States Agency for International Development (USAID) and implemented by the U.S. National Academies of Sciences, Engineering, and Medicine (NAS).
Focus Areas
Applications are being accepted only for projects within the scope of one of the focus areas listed below.
Multi-Country Focus Area Calls

Multiple Countries / Last Mile Awards
Multiple Countries / Family Planning and Reproductive Health

Regional or Country-Specific Calls

Multiple Countries / Water, Sanitation, and Hygiene in North Africa
Iraq / Water Research and Conservation to Keep People Healthy and Increase Employment
Peru / Strengthening Natural Resource Management in Peru
Tunisia / Economic Growth, ICT, and Small and Medium Enterprises
Grants
Projects must be designed to be implemented in one year, with budgets between $30,000 to $80,000 (USD) (except for projects under the Peru focus area, which can be up to $100,000).
Eligibility
National or resident of a PEER-eligible country
Affiliated with and permanently based at an academic institution, non-profit organization, government-managed research laboratory, or relevant government ministry in a PEER-eligible country (learn more about eligible countries by visiting each focus area)
Application
The PEER proposal submission process has two phases:
Phase 1: A brief pre-proposal is required for all applicants. The deadline for submission of pre-proposals is January 14, 2019. Details for pre-proposal submission are provided below.
Phase 2: If invited to submit a full proposal, applicants will be notified around February 25, 2019. The deadline for submission of full proposals is April 12, 2019.
Potential applicants are encouraged to carefully review the eligibility requirements and focus areas for this cycle of PEER before beginning the application process. Pre-proposals must be submitted through the online application system. Paper or emailed submissions will not be accepted.
For more information, visit PEER Program.