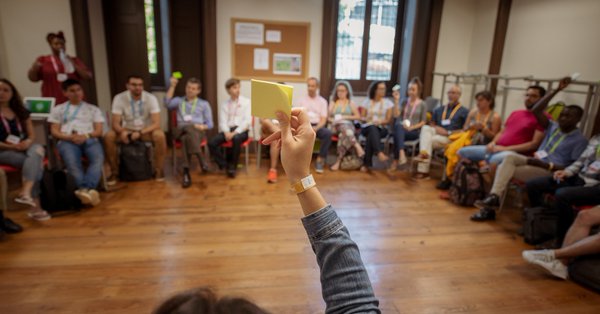 Call For Applications: Thought For Food Regional Coordinators Program 2019
Deadline: November 23, 2018
Do you have what it takes to drive Thought For Food's mission as one of 6 Regional Coordinators? Here's your chance! To kick off 2019 with even more energy and brainpower, aligned to the revised Thought For Food program, TFF is looking for young changemakers who are driven to build an inclusive and sustainable food system with them.
Regional Coordinators will:
Execute and advise on the organization's overall strategy and program development
Develop and lead a cohort of regional TFF Ambassadors to execute strategic activities that ensure the TFF impact of TFF's programs
Establish and maintain strategic partnerships with regional organizations
Engage current and new community members in online and offline activities
Build TFF's brand awareness and thought leadership position as a critical force for change in the field of food and agriculture
Benefits
Invitation to in-person TFF Academy and fast-track for full/ partial sponsorship to TFF Community events
Management experience; Annual fixed budget in accountability with activities
Access to digital ecosystem and talent hub profile, discount for relevant events, letter of recommendation and linkedin reference, exposure on TFF Content Hub and more perks!
Eligibility
You are fluent in English (verbal and written);
You are tech savvy – comfortable using Google docs and sheets, as well as social media platforms;
You are detail-oriented, with a dedication to delivering high-quality outputs;
You have the self-discipline required to work independently and are comfortable;working with a remote TFF core team.
You have understanding of when and how to over-communicate to ensure team members are involved in decisions to change strategy and deliver excellent Execution;
You are resourceful, and able to come up with novel solutions to overcome the uncannyness, unexpected, and last-minute situations and obstacles;
You are able to work well under pressure, and willing to work extra hours in the lead-up to major events/deadlines;
You have a good sense of humor, are open minded to new ideas, and have enthusiasm for the team and organization;
You are interested in food, technology, science, art and agriculture.
Basic Conditions:

Commitment: 3 Years, starting in January 2019
Availability: 10-15 hours a week to dedicate to TFF
Application
For more information, visit TFF Regional Coordinators.