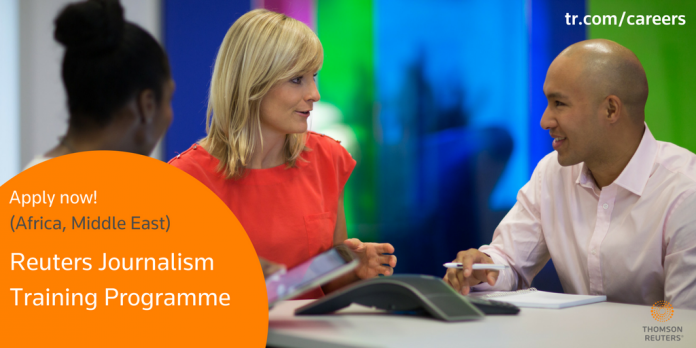 Reuters Journalism Training Program for EMEA 2019
Deadline: November 30, 2018
Applications are open for the Reuters Journalism Training Program 2019. The Program is an opportunity for recent graduates, early career reporters, or professionals with 2-3 years' experience who are looking to switch careers into journalism.
The program in 2019 will consist of 9 months of formal and on-the-job journalism training, initially for one month in London, followed by one of Reuters' other main reporting newsrooms or bureaus across Europe, the Middle East and Africa. Reuters is excited to work with emerging talents who can tell stories about finance, politics and people from new perspectives and in different formats. As a global business they rely on diversity of culture and thought to deliver on their goals. To ensure they can do that, they seek diverse, talented and qualified employees with proven knowledge and passion for business, markets and/or multimedia and data journalism.
Benefits
Competitive pay
Placements in a bureau in EMEA
Fast-paced reporting on top news stories of the day
Opportunity to develop journalism skills
Eligibility
You must have the legal right to work in either Europe, Middle East or Africa to be considered for this program;
Applicants must show clear commitment to a career in journalism
Have drive to build sources, break news and deliver deeply reported stories
Strong interest in issues that affect companies, markets and economies
Ability to generate original, relevant story ideas
Ambition to deliver journalism with real impact
Fluency in written English
Fluency in a second language beneficial but not compulsory
An international outlook
Other desired skills include
Knowledge or expertise in a relevant field such as banking, financial analysis, accounting, law or computer science
Up to 3 years of professional journalism experience
Proven ability to generate exclusive and agenda-setting stories
Experience in multi-media story-telling
Expertise in data analysis or data-driven journalism
Understanding of how to use social media to report and find sources
How to Apply
You should apply directly via the careers site
Please ensure that your CV is no more than two pages long and written in English.
All applications must be supported by a Cover Letter
For more information, visit Reuters Journalism Training Program.