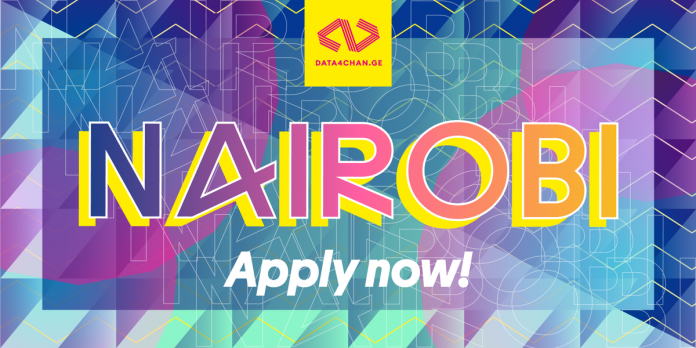 Data4Change Nairobi Program for Civil Society Organisations 2019 (Funded)
Deadline: January 31, 2019
Applications are open for the Data4Change Nairobi Program for Civil Society Organisations 2019. DATA4CHANGE is a London-based non-profit that connects civil society with global creatives, supporting them to tell stories with data and forge real change.
A DATA4CHANGE flagship event is a five-day residential workshop with full immersion into the inner workings of a data visualisation studio. CSOs and NGOs working on some of the world's most pressing social and political problems are matched with carefully selected teams of industry experts covering the disciplines of data analysis, journalism, graphic design, and web development. The program will run from May 30 – June 3, 2019 in Nairobi Garage, Nairobi, Kenya.
At the end of the event each team has a proof of concept or fully rendered prototype for a data driven advocacy campaign, and the wealth of immeasurable experience that comes along with spending five days together with a diverse and uniquely talented group of individuals. You will use data to tell stories and change hearts and minds, and you will make long lasting memories and life-changing friendships.
Thematic Areas
Suggested thematic areas include, but are no means limited to:
Censorship, shutdowns, obstacles to free access
Innovation, free and open source software
Privacy, surveillance, encryption
Legislation and policy concerning the internet, press freedom, privacy, access
Governance of the internet, net neutrality
Protection and realisation of human rights online
Benefits
Full scholarship for you and a colleague to attend the workshop, including travel, accommodation, and in-country costs
Experience working with talented industry professionals on a data driven project guided by you
Learn how to tell stories with data
Eligibility
Open to CSOs working on themes relating to digital rights, internet freedom and/or freedom of expression online. Each participating organisation will be matched with a team of industry experts covering the disciplines of data analysis, journalism, graphic design, and web development.
Your proposal must cover at least one of the following countries:

East Africa – Ethiopia, Kenya, Rwanda, Tanzania, Uganda
Southern Africa – Angola, Malawi, Mozambique, Namibia, Zimbabwe
West Africa – Gambia, Liberia, Nigeria, Senegal, Sierra Leone
Middle East & Central Asia – Afghanistan, Egypt, Iran, Jordan, Lebanon, Sudan
Application
For more information, visit D4C.