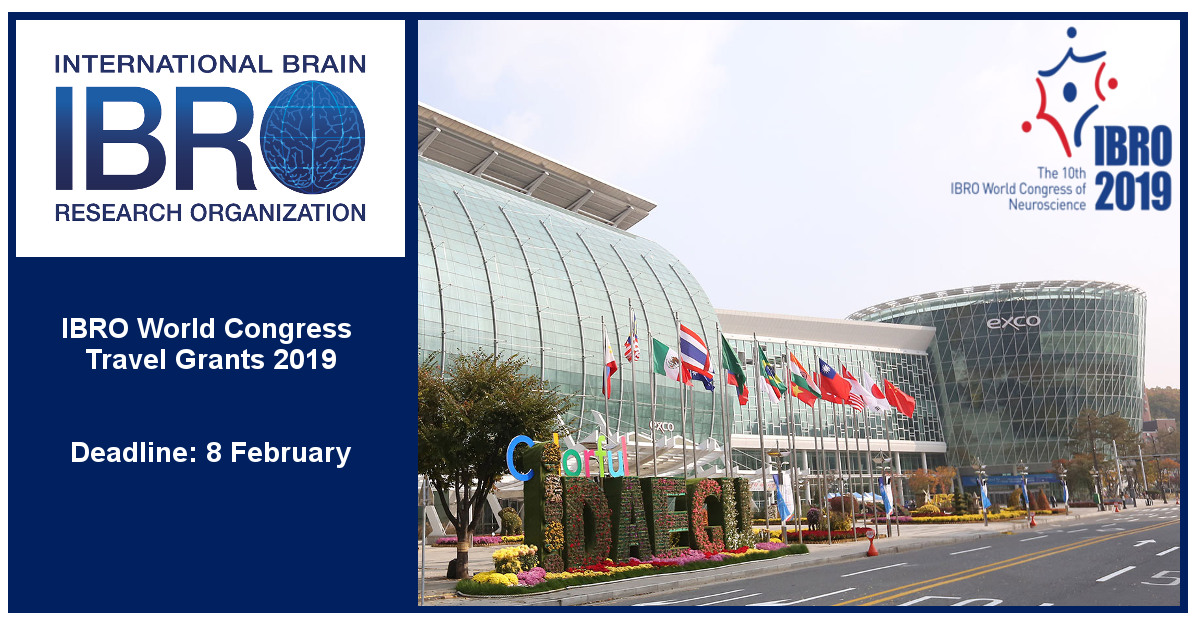 IBRO World Congress Travel Grants Program 2019 (Up to €2,000 Euros)
Deadline: February 8, 2019
Applications for the IBRO World Congress Travel Grants Program 2019 are now open. The International Brain Research Organisation (IBRO) is offering travel grants to high-quality neuroscientists from diverse geographic and scientific areas who wish to attend the 10th IBRO World Congress taking place in Daegu, South Korea from September 21-25, 2019.
The International Brain Research Organisation (IBRO) aims to promote neuroscience research and communication among researchers around the world. One of its foremost emphases is on supporting education of young investigators in developing countries. The IBRO World Congress has been held every four years since 1982. It is one of the most prestigious international meetings attended by over 4000 neuroscientists from around the world. It is a fascinating opportunity for participants to share the latest information and knowledge in the diverse areas of the brain research and neuroscience.
Grant
Grant up to 2000 Euros will be awarded
Eligibility
At least one letter of reference is required in order to be considered for this grant. Two is ideal.
Priority is given to those who have not received an IBRO travel grant within the past three years.
Application
Please ensure your referee email IDs are correct before submitting your application. They will receive an automated email request for reference letters.
Please have your referees check their incoming and spam inboxes. In the event the above request is not received, any further enquiry should come directly from the referee via email to [email protected] .
It is your responsibility to check with your referees if they have received the reference email request and if they have submitted the form. Due to the high volume of email received by the IBRO Secretariat, we will not reply to individual emails concerning this.
Any correction of referee email ID after submission can only be done by re-submitting a new application.
Successful applicants are not allowed to change their selected conference of meeting once selected.
Please note abstract submission for the IBRO World Congress will be open between 14 January – 14 April 2019. All applicants are responsible for the submission of their own scientific abstract.
For more information, visit IBRO World Congress.