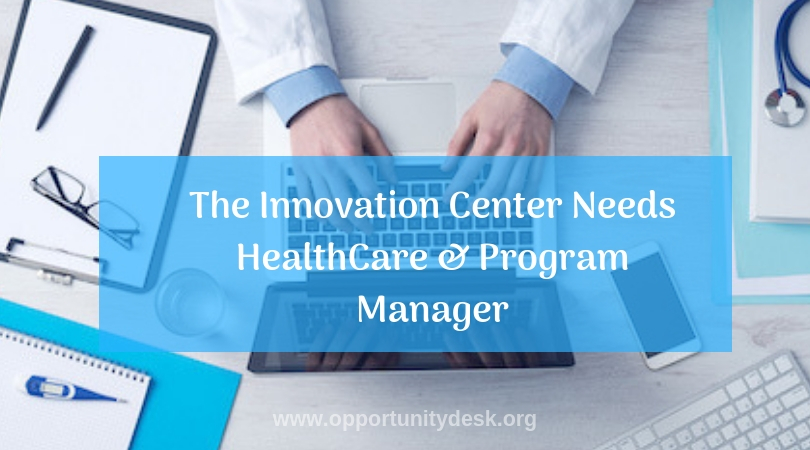 Hot Job: The Innovation Center Needs HealthCare & Program Manager – Abuja, Nigeria
Deadline: Ongoing
The Innovation Center is looking for qualified individuals who would become HealthCare & Program Manager of RemindMe. This is a contractual full-time appointment with a primary base in Abuja, Nigeria.
The mission of Innovation Corner is to use human centred design and technology to solve social problems. RemindMe is an offline data management and reminder system for immunization using USSD/Voice Technology. RemindMe aims to increase demand for vaccination services and improve the healthcare infrastructure. Remind me supports caregivers, government, development agencies and health workers.
Africa is faced with poor internet connectivity and power. The Innovation Center believes that the solutions to social problems in Africa should be supported by offline technology and human-centred development that can reach the over one billion people in Africa and other low-income countries. They are committed to solving the social problems that exist in our community and supporting others to do so.
Responsibilities
The HealthCare & Program Manager would be responsible
To lead and direct the development and implementation of guidelines and strategic plans that facilitate and support Innovation Corner's global health products and initiatives
To collaborate with national governments on product and service deployment
To collaborate with the technology and social transformations team om advisory and support level
To lead global advocacy efforts for the establishment of applied research to develop and improve products in all countries of operation
To establish, manage and foster relationships with donors, other strategic partners, and stakeholders which will include non-state actors
To lead and manage the overall work of the department by developing the department's overall strategy and structure to deliver the work required, including establishment and implementation of work plans ensuring the efficient use of resources and the monitoring and evaluation of the work; ensuring the activities are administered within the Innovation Corner's rules, regulations and guidelines, and aligned to the agreed technical priorities and directions of Innovation Corner, Donors and Experts
To ensure technical and other risks are mitigated using the context of Innovation's internal control framework and risk register within the area of work to account for the overall financial management of the department, including oversight of timely disbursement, and technical and financial reporting on the use of donors' fund.
Remuneration
Innovation Corner salaries for staff in the Professional category are calculated in US dollars. The remuneration for the above position comprises an annual salary starting at USD 12,000 (subject to mandatory deductions for tax, pension contributions and health insurance, as applicable)
Other benefits include 21 days of annual leave
Eligibility
Applicants should have a university degree in medicine or sciences and postgraduate degree (minimum Masters level) in public health, epidemiology, vaccine development or related field;
Have 4 years of national or international work experience in planning, developing and implementing large-scale public health programs, including at the national level in developing countries;
Experience in senior or executive capacities of a health program (desirably Immunization), with substantial human resources management and decision-making responsibilities for both the technical and managerial elements of the work being managed;
Demonstrated leadership and team management skills in international and multi-cultural settings;
Proven ability to successfully interact and negotiate with senior national and international authorities;
Knowledge of how to ensure that the areas of monitoring and evaluation are essential to supporting the delivery of concrete results, and an important part to the building of sustained reporting procedures;
Excellent interpersonal and communication skills, including negotiations with persons in a variety of senior positions both internal and external;
Expert knowledge of English. An intermediate knowledge of French is desired;
Applications from women and from nationals of other countries, other than Nigeria are particularly encouraged.
Application
This vacancy notice may be used to fill other similar positions at the same grade level. Only candidates under serious consideration will be contacted.
Two interviews will be conducted (online and in-person) as a form of screening. In the event that your candidature is retained for an interview, you will be required to provide, in advance, a scanned copy of the degree(s)/diploma(s)/certificate(s) required for this position. Attach your CV/Resume, Cover letter, Linkedin link and any other supporting document for review.
For more information, visit The Innovation Center.