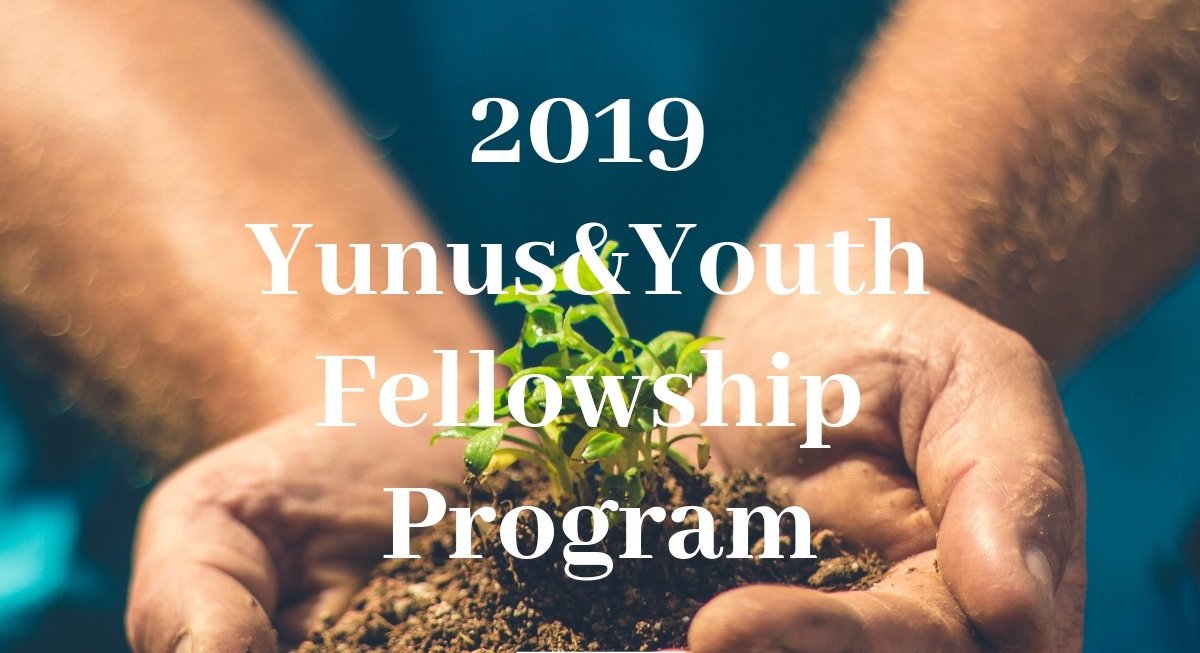 Yunus&Youth Global Fellowship Program for Social Entrepreneurs 2019
Deadline: February 18, 2019
Applications for the Yunus&Youth Global Fellowship Program for Social Entrepreneurs 2019 are now open! Yunus&Youth is a social business training ground for the next generation of social business leaders supported by Nobel Peace Prize Muhammad Yunus. They enable early-stage young social entrepreneurs to create stronger positive social impact, while also helping them to become financially sustainable by providing mentoring, business training and access to a global network. 
Yunus&Youth offers a 6-month Global Fellowship Program to help exceptional young people running businesses doing good. By training talented young social business leaders and accelerating their enterprises with the right resources, we cultivate a highly capable and impactful next generation of social entrepreneurs wherever they are.
Fellowship Components
One-On-One Mentorship: They match Fellows with professional mentors, who are successful business professionals ready to lend their expertise to help Fellows maximize their businesses' growth potential.
Online Learning Platform: Fellows receive a 6-month course in social business development. The step-by-step curriculum ensures that by the end, they will be ready to pitch to potential investors.
A Global Network: Being a Y&Y Fellow means having a support network of experts, business leaders, institutions and other like-minded social entrepreneurs around the world. If Fellows need a connection, they'll make it happen!
Benefits
Mentorship: You'll be paired with a mentor who is right for you. You'll work together to develop your social business throughout the 6-month program.
Supportive Peers: You'll meet driven entrepreneurs from around the world. Each class cohort is made up of fearless young people who provide one another with feedback, connections and support.
Expert Webinars: They bring you experts from a diverse range of fields including social enterprise, business fundamentals, digital marketing, finance, learn start-up principals and more.
Just the Right Resources: They've developed a no-hassle, just-what-you need curriculum, resources, tools and exercises that will take your enterprise to the next level.
Recognition: As a Y&Y Fellow, the world knows you're a social entrepreneur destined to make a long-lasting impact.
Connections: Their network includes some of the world's top social impact organizations, international institutions, incubators, and investors.
Professional Support: The Y&Y Team knows your time is valuable. We've structured the process to ensure that every step is as impactful as possible.
Growth: Their Fellows cite Y&Y as one of the most important and supportive experiences in shaping and growing their social businesses.
Eligibility
If you have started working on your social business and are dedicated to making it succeed, then you fulfill the main criteria.
You must be under 35 years old, comfortable speaking and communicating in English and have access to stable Internet connection.
You must also be able to commit to at least 5 hours per week on exercises that will help you improve your business.
Individuals from any country can apply for the program. There are no restrictions on country of origin or country of operations.
Application
For more information, visit Yunus&Youth.