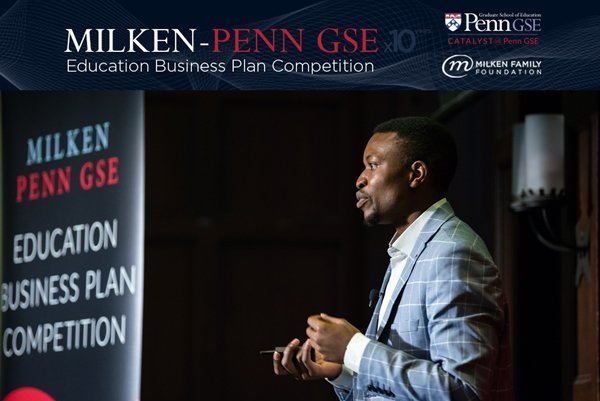 Milken-Penn GSE Education Business Plan Competition 2019 for educational innovators worldwide
Deadline: February 13, 2019
The Milken-Penn GSE Education Business Plan Competition (EBPC) is accepting applications from educational innovators worldwide! The competition offers a tremendous opportunity to entrepreneurs and investors alike. Through its dynamic ecosystem, the EBPC celebrates meaningful innovations that address persistent and emerging problems in education.
The EBPC is considered the most prestigious and well-funded education business plan competition, attracting innovative ideas from around the world. Since 2010, the competition has awarded more than $1 million in cash prizes. Winners and finalists have gone on to secure more than $135 million in funding.
As part of Catalyst @ Penn GSE, the EBPC is dedicated to nurturing entrepreneurs and helping to develop their ventures through a continuum of programming supporting education entrepreneurship before, during, and after the Competition.
Benefits
Semi-Finalists selected from Round 1 will receive:
1-on-1 Mentorship with industry specialists
Free access to Catalyst Bootcamps that explore essentials of startup strategies and plans for growth
Showcase your venture and receive valuable feedback at a thought leadership event concurrent with ISTE in Philadelphia
Opportunities to take your business idea to the next level
Eligibility
Any individual is eligible to enter the Competition
Applicants must be above 18 years
The EBPC welcomes entrepreneurs with innovative ideas in education in areas of focus including:
Urban Education
Connecting Research to Practice
Teaching & Learning
Technology in Grades K through 12
Special Education & At-Risk Students
Open & Collaborative Solutions: The Education Ecosystem
Online & Distance Learning in Higher Education
Global/Borderless Education Solutions
Early Childhood Education
Workforce Learning
Rules
Educational entrepreneurship business plans should outline the problem they address, offer a solution, and discuss scaling possibilities for bringing the proposed innovation to additional settings. Broadly construed, educational entrepreneurship initiatives can address a wide range of educational issues.
This competition encourages applications in every conceivable educational setting – from early childhood through corporate/adult training, in settings and contexts anywhere in the world.
They also welcome both nonprofit and for-profit submissions.
In terms of focus, they invite submissions that address issues of curriculum, instruction, educator professional development, assessment and evaluation, collaborations, learning design, technological innovations, learning/school support tools, and more.
In evaluating business plan submissions, their judges will consider the importance of the educational problem, the creativity and feasibility of the proposed solution, and the potential for widespread impact.
Application
Round 1 is open to applicants who currently generate revenue, grants, customers, or investors, as well as those with well-conceived plans to do so.
Round 2 is open to Semi-Finalists from Round 1 who have the exclusive opportunity to submit a refined application enriched by this development process with Catalyst.
Finalists selected from Round 2 will pitch their venture at the EBPC Finals in Philadelphia for the chance win cash prizes and share their idea with investors, entrepreneurs, and educational thought-leaders.
For more information, visit Milken-Penn GSE.