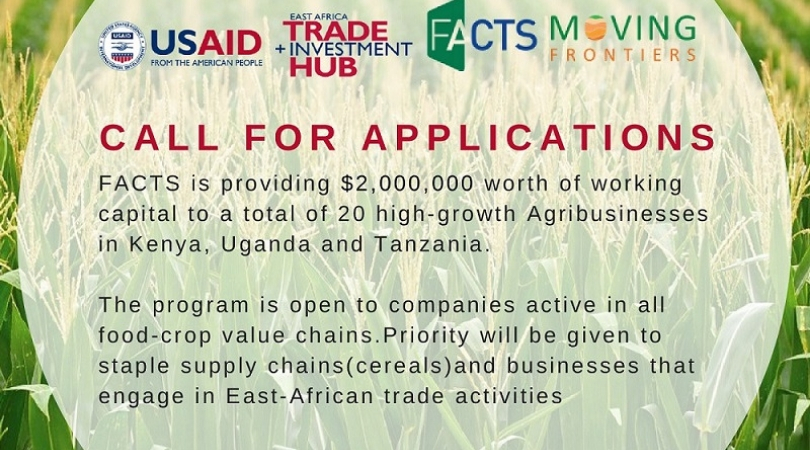 FACTS Moving Frontiers Programme 2019 for Agribusinesses (Up to $2,000,000)
Deadline: January 31, 2019
Applications for the FACTS Moving Frontiers Programme 2019 are now open. As part of the initiative, FACTS will select and finance a total of 20 Agribusinesses in Kenya and Uganda.
The programme is strictly confined to Agriculture value chains, with a special bias towards companies active in grain value chains and/or regional trade in the Food & Agriculture sector. The programme has been developed together with the East Africa Trade and Investment Hub. Financing is the responsibility of FACTS; the support of the Hub is directed towards marketing, research and (supporting) training activities.
Benefits
FACTS is providing $2,000,000 worth of working capital to a total of 20 high-growth Agribusinesses.
Eligibility
Open to SMEs active in the Food & Agriculture sector

preference given to companies active in the grain/staples value chains
preference given to companies involved in regional sourcing/trading

Company based in Kenya or Uganda
Have an annual sales exceeding (the equivalent of) USD 150,000 in 2017
A Business Plan covering 2018-19-20
Audited financial statements for 2017 and 2018
Sound administrative controls (ability to report monthly/quarterly)
Solid trading history with key suppliers and off-takers
Clean CRB record
Application
For more information, visit FACTS Moving Frontiers Program.