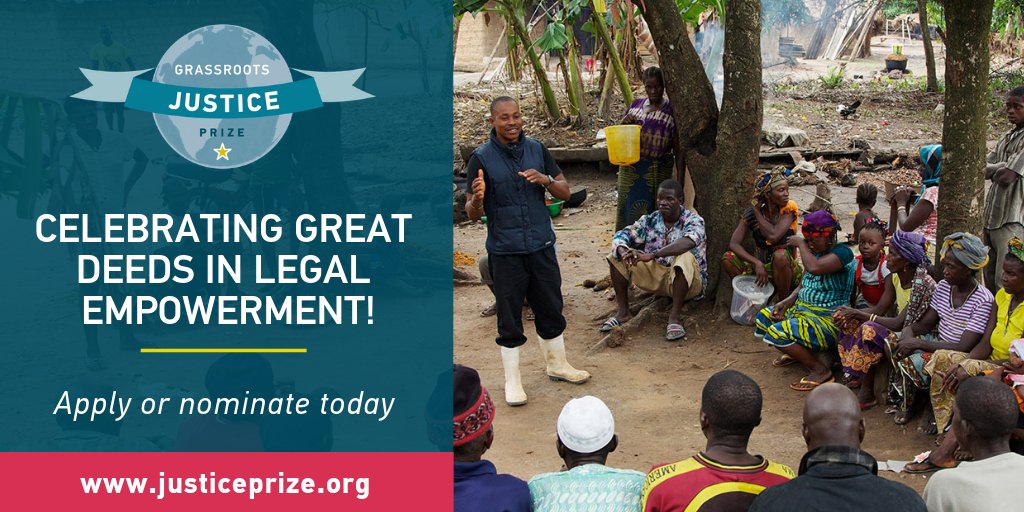 Grassroots Justice Prize Competition 2019 (Win $10,000 and trip to U.N High-Level Political Forum in New York)
Deadline: March 8, 2019
Namati is now accepting applications for the 2019 Grassroots Justice Prize: Celebrating Great Deeds in Legal Empowerment. The biennial Grassroots Justice Prize competition is the world's only competition recognizing grassroots organizations and institutions, large and small, across the globe, that are working to put the power of law into people's hands.
The competition will honor the work of non-profits, social enterprises, and public institutions that have demonstrated remarkable innovation, impact, and/or sustainability in their legal empowerment work.
Prizes
Each of the three winners of the 2019 competition will receive $10,000 USD cash and will be honored at a ceremony during the U.N High-Level Political Forum in New York, all expenses paid. The event will take place in mid-July 2019.
Please note that if a representative of the winning organization cannot attend the event in New York for any reason, the trip will be forfeited. No cash or travel voucher will be provided in lieu of the trip nor will a change of dates be permitted. However, the organization will still receive the $10,000 USD cash prize.
Eligibility
The 2019 Grassroots Justice Prize competition is open to non-profit organizations, social enterprises, and public institutions from all around the world.
Organizations that partner directly with Namati are not eligible for the prize.
They are looking for grassroots legal empowerment projects that demonstrate outstanding innovation, impact, and/or sustainability.
Eligible projects might use a community paralegal approach or they may be providing legal education and basic rights awareness. The key is that they are putting the power of law in people's hands in order to tackle poverty, injustice, or other social problems.
Projects that are restricted to one part of an organization's overall work will also be considered.
Application
There are three stages in selecting the Grassroots Justice Prize winners.
Stage One: Submission of Applications: 

Complete and submit the online application form by Friday, March 8th at 23:59 GMT.
Note: Nominations must be received no later than Friday, February 22nd. The organization will then have until the March 8th deadline to complete their application.

Stage Two: Shortlisting

Namati and the 2019 Grassroots Justice Prize judging panel—comprised of notable legal empowerment practitioners and academics—will shortlist the most promising entries. All shortlisted applicants will be contacted and may be asked to provide more information.

Stage Three: Results

The 2019 Grassroots Justice Prize judging panel will select the winners of the three main $10,000 USD prizes. The winners will be publicly announced in July 2019.
The judges will create a shortlist of applicants for a fourth prize of a yet-undetermined amount. The winner of this prize will be decided by a public vote, to be held in April-May 2019.
Click here to apply or nominate.
For more information, visit Namati.