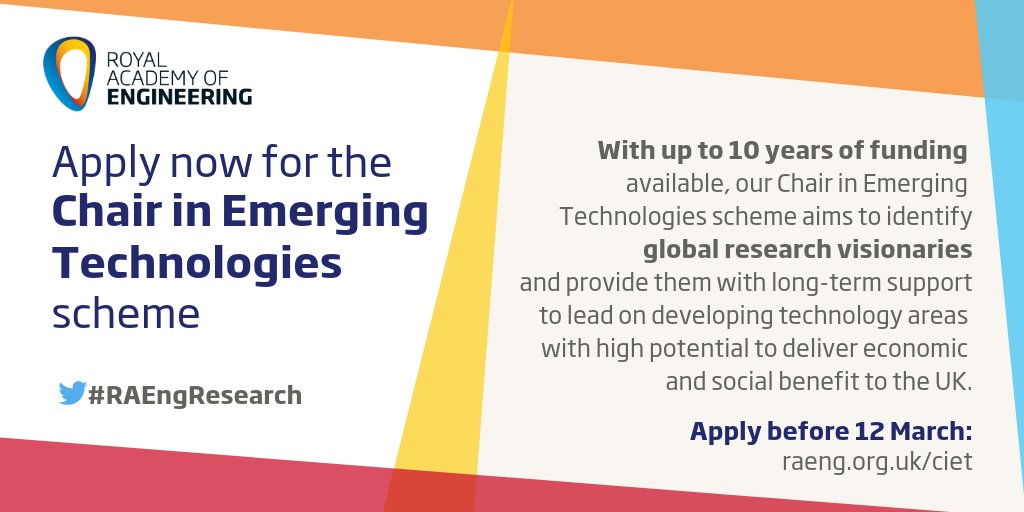 Royal Academy of Engineering Chair in Emerging Technologies 2019 (Value of £2,780,000)
Deadline: March 12, 2019
Apply for the Royal Academy of Engineering Chair in Emerging Technologies 2019. The Academy's Chair in Emerging Technologies scheme aims to identify global research visionaries and provide them with long term support to lead on developing emerging technology areas with high potential to deliver economic and social benefit to the UK.
By covering employment costs for the Chair, the award enables sustained focus on advancing the technology to application in a strategic manner over a period of up to 10 years.
Applications are welcome from across a broad range of engineering and technology areas including research topics currently considered basic science, but which now require engineering ways of thinking to drive them towards application and in more established technology areas where the applicant has identified a high-impact novel approach.
Award
Each award must total to a value of £2,780,000.
Eligibility
All projects must commence on October 1, 2019 and end on September 30, 2029
Applicants who haven't been awarded a Professorial title, but have demonstrated research achievements such that they would be strongly considered for Professorial promotion at present, are eligible to apply. In supporting the submission, the university is understood to be affirming this
Awards can only be held at a university, or jointly between the university and an organisation (e.g. national laboratory, research institute, or innovation organisation), based in the UK. The Academy's contract will exclusively be with the university
A letter of appointment from the university (which may be conditional on receipt of the award) must be provided if the applicant is currently based outside the UK university system
All applications must include a letter of support from a Dean, Pro-Vice-Chancellor for Research, or someone in a similar position, clearly outlining university's commitment to supporting the emerging technology field, and, the applicant as a global leader of the field. The expected contents of this letter are detailed in the guidance note
Applications are welcome from across a broad remit of engineering and technology, including areas currently considered basic science, but now require new ways of thinking to drive them towards application, and in areas where technologies are well-established but could be significantly improved by novel approaches
Applications must be centred on enabling and driving technological innovation. Therefore, proposals whose vision is primarily around scientific advance for its own sake are not appropriate to this scheme
All applications must make a clear case for long-term sustained strategic support for the technology programmes. Thus, the proposal must cover a long-term vision that shows the value of the entire 10 years of appointment. Similarly, proposals whose innovation benefits are fully realisable from separate shorter duration projects are not appropriate and will not be supported
They will not fund through this route activities that are primarily aimed at addressing the clearly articulated needs of a single industry partner over the next five years and would be more appropriate for their Research Chairs/Senior Research Fellows scheme. Existing RAEng Research Chairs are eligible to apply, but will need to show how their strategic vision is compatible with existing commitments to industrial partners and that their salary will not be double-funded by the Academy
The duration of the award is up to 10 years – initial five years with the possibility of extension for a further five years following a full review of award holder's achievements and outcomes, and the project's potential for commercialisation and impact over the next five years
Applications that are incomplete or do not adhere to the guidelines may be rejected
Application
Applicants must get approval and support for your proposal from your Dean/Pro-Vice-Chancellor (or similar) and the research grants office prior to submitting an application.
For more information, visit Royal Academy of Engineering.