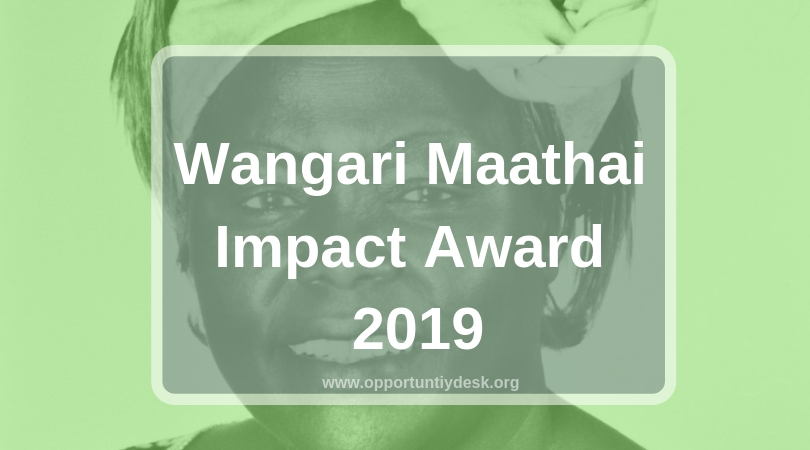 Wangari Maathai ​Impact Award 2019 (Win KES 70,000 prize and fully-sponsored trip to attend NeurIPS 2019)
Deadline: April 12, 2019
Applications for the Wangari Maathai ​Impact Award 2019 are open. The Maathai Impact Award encourages and recognises work by African innovators that shows impactful application of machine learning and artificial intelligence.
This award reinforces the legacy of Wangari Maathai in acknowledging the capacity of individuals to be a positive force for change: by recognising ideas and initiatives that demonstrate that each of us, no matter how small, can make a difference. The award will be presented at the annual Deep Learning Indaba in August 2019. They welcome applications from individuals, teams and organisations themselves, or nominations by third parties.
Award
In partnership with Black in AI, the winner will receive a fully-sponsored trip to attend NeurIPS 2019 and the Black in AI workshop, co-located with NeurIPS, in December 2019;
The winner will also be invited to speak at the Deep Learning Indaba in Nairobi in August 2019, and receive a cash prize of KES 70,000.
Eligibility
The award is open to individuals, teams, or organisations.

The Awards Committee considers impactful work to be broadly defined as any work — technological, social, or economic — that has had, or has the potential to positively transform our African societies. There are many ways to have impact, and they hope that those who will submit nominations/self-nominations will be generous and creative in their judgement of the term 'innovation'.

Examples could include:

A research paper that shows important results using machine learning to solve important problems that address food security.

The work of an African startup using machine learning, whose work is set to have positive impact or demonstrate technical excellence in their focus area.

An individual who has shown a track record of empowering individuals and groups affected or involved with machine learning.

Government agencies or individuals contributing positively to the policy and society conversations around machine learning and artificial intelligence.

A non-profit organisation that empowers innovators through skills development or mentoring.

An established business that has deployed machine learning in an innovative way to positively impact their business and customer experience.

Nominations can be sent by anyone, including individuals and organisations themselves.

Nominations are welcomed from any African country.

All supporting letters should be in English (or a translation supplied).
Application
This application will require:
Personal details about the nominator (as either a self-nominator or a third party)
Personal details about the nominee
Details about the impactful work, including why it is impactful, who it impacts and why is it innovative
2 supporting letters from persons other than the nominator (this can also be submitted via another form)
For more information, visit Wangari Maathai ​Impact Award.