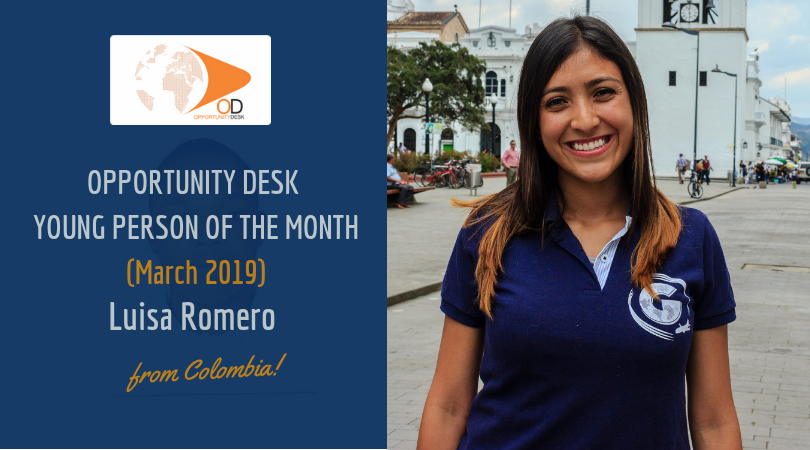 Luisa Romero from Colombia is OD Young Person of the Month for March 2019!
Welcome to March!
Our Young Person of the Month is Luisa Romero from Colombia! Luisa Fernanda Romero Munoz is 25 years old. She holds a Bachelor's Degree in Electronic and Telecommunication Engineering from the University of Cauca and currently, she is a postgraduate student in the Masters of International Tourism Management at Ulster University.
Luisa is the Co-founder of Get Up and Go Colombia. She was selected as the most promising young entrepreneur in Latin America and the Caribbean for the program Young Leaders of The Americas Initiative (YLAI 2017) by the US State Department as well as receiving other international recognitions such as Chevening Award funded by the UK Government's Foreign and Commonwealth Office (FCO). Luisa emerged third in the 2018 Opportunity Desk Impact Challenge.
Read her amazing story below and be inspired!
LUISA ROMERO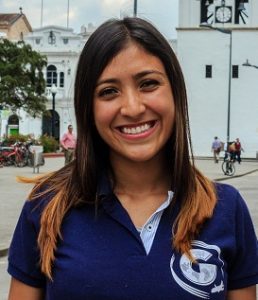 Luisa Romero is the co-founder of Get Up and Go Columbia, an NGO that seeks to transform territories which were dominated by the armed conflict into cultural and gastronomic destinations for national and international tourists. She holds a Bachelor's Degree in Electronic and Telecommunication Engineering from the University of Cauca and currently is a postgraduate student in the Masters of International Tourism Management at Ulster University.
Due to her passion for social impact, she has always been engaged in local volunteering initiatives and has also traveled abroad to volunteer in projects and work in activities in Brazil, the USA and across the Cauca region in Colombia, where she was born and grew up. Her volunteering experience, at home and abroad, led her to lead local initiatives which contribute to peacebuilding in her country by empowering young people.
On How She Began
When Luisa was 3 years old, her mother used to read to her a story about a capable young woman, Mulan, who stood up for what she believed in, with a great love for her country and a determined spirit that led her to save China. Mulan's story reminds Luisa every day on the importance of persevering through tough times and never giving up.
Growing up in a country with different social problems related to conflict and drugs, as in the case of Colombia, was a motivation for her to start leading the change she wanted to see and to help people realize that to believe is to create new realities. While others only saw problems, Luisa saw all the potential in her country. This is what inspired her to start Get Up and Go Columbia.
Columbia is the second most biodiverse country in the world, with one of the largest birds. This inspired Luisa to start changing the reputation of her country by first changing the mindset of the people around her, helping them to see the value of their potential. That was how she started, by convincing young people to work together and promote their region through walking tours.
The dream is now a reality and since they began three years ago, they have impacted more than 15,000 tourists. People are now seeing Colombia from a different perspective.
On Her Successes
Luisa considers finding the most amazing team to work with as her biggest success thus far. Her team is made up of 30 young people who believe and are creating a new reality to their region through tourism. She says the most incredible thing is to see how a person can develop skills and become a leader thanks to the seed you planted.
Also, they feel proud to be selected as the only initiative in Colombia funded by YLAI Innovation Grant to develop the project "Silvia 360" in alliance with Perspektiva360, a virtual reality (VR) and 360 photography project which aims to change the troublesome reputation of one of the towns in their region and replace it with breath-taking images and VR experience.
Whenever she faces an obstacle, Luisa thinks about the happiness that her work brings her and that is enough to keep her working and overcoming any kind of obstacles.
Her Words of Advice to the Youth
Be persistent, be proactive and never give up. Opportunities are like sunsets, if you blink, you miss them.
You can connect with Luisa on Facebook! Learn more about her initiative, Get Up and Go Colombia.
——————————————————————————————————————————
Who will be the Next Young Person of the Month?
You can be the next Opportunity Desk Young Person of the Month! All you have to do is get a friend to recommend your work or fill out the nomination form here.  We want to use the platform to recognize and celebrate the efforts of amazing young people around the world. O! And you must be an active Opportunity Desk member, either as a fan, reader or subscriber!
Don't miss any updates in the future.
Join Opportunity Desk on Facebook (155k+), Twitter (26k+), Instagram (9k+), FB Group (68k+) or join our 60k+ Email Subscribers below!